BY: WALTER OPINDE
Very little is known about Dr. Smitherman Herbert Sr., this article thereby reveals a bit more information about the prominent doctor. Born on 23rd March 1937 in Birmingham, Dr. Smitherman Sr. was raised as the only child to a Baptist Minister, Reverend Smitherman Otis C., and mothered by Mrs. Alberta. Even though his family was confronted by several racial challenges, Herbert was already destined to excel in education. Regardless of the unceasing racial discrimination against Blacks, he furthered his education at the Tuskegee Institute where he excelled and attained both his Bachelor's Degree and Master's Degree in Chemistry.
He then served as a teacher at the Southern University of Texas, and later spent a 2-year stint in the military. Moreover, he attended Howard University to further his education and, later, obtained his PhD. Smitherman became an innovative and prominent chemist who worked as an employee at Procter & Gamble – a consumer goods company. He joined the company in 1966 and entered the records as the first Black to be hired with a doctorate qualification in physical and organic chemistry. Mr. Herbert worked in the company for approximately 29 years, a period which saw him being rewarded as one of the company's pioneering chemists.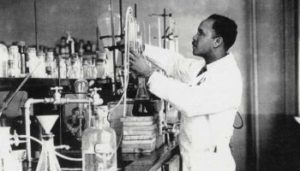 Dr. Smitherman made various modifications to the Crest product through introducing new formulas in the product's manufacturing. In fact, many people thought that Smitherman was the inventor of the widely used Crest Toothpaste and Folgers Coffee, among other products. However, he only helped in improving these already established products. The other famous products that Smitherman significantly participated in improving included Safeguard soap, Biz detergent, and Crush soda, among other consumable products. As such, historical records hold it that Smitherman's new formulations, innovations, and improvements led the Procter & Gamble Company to its fame and long-term profitable performance.
After 29 years at the Procter & Gamble Company, Dr. Smitherman then worked as a professor at Wilberforce University, discharging his duties as the Assistant Vice-President on academic affairs. Later, he turned his attention to start a high school, which was named "Western Hills Design Technology School." The major objective for starting this school was to help the black students improve and perform better in mathematics and other science-related disciplines. By 2009, Smitherman served as the Principal in the Cincinnati Public School system for Virtual High and the Western Hills Design Technology High Schools.
The other legacies set on the historical records by Dr. Smitherman Herbert before his death in 2010 include his programs to bring in more Black Engineers and Chemists to the Procter & Gamble Company. Additionally, he assisted in the creation of the NOBCHE (The National Organization for Black Chemist and Chemical Engineers). He died in 2010 and left behind a single son and five daughters.
"Read more of the original story via https://blackamericaweb.com/2015/10/21/little-known-black-history-fact-dr-herbert-smitherman/."      
Sources
Henry Louis (2017). Did a Black Man Invent Crest Toothpaste? Retrieved on 27th April 2017 from http://www.theroot.com/did-a-black-man-invent-crest-toothpaste-1790877449
Obituary Detail, 2010. Dr. Herbert Charles Smitherman, Sr. From https://www.tristateobits.com/obituary/Dr-Herbert-Charles-Smitherman-Sr–1286991593#toTopLink