William Edward White was a professional baseball player who played for the National League's Providence Grays and the first Black player in MLB history.  However, social norms of the time, genetic 'rules', and the ability to pass as White made this title of sorts a point of debate.
The team ran from 1878 to 1885 and won two pennants in 1879 and 1884. His career is significant for two other reasons: the length and that he passed as White. Research into him didn't reveal he was the first Black player until some time later.
Born in October 1860, he played baseball for Brown University's baseball team in 1879. White would make his professional debut that summer almost 138-years ago.
PROFESSIONAL DEBUT
William Edward White made his debut for the Providence Grays as a replacement to first baseman Joe Start on June 21, 1879. In his first and only game, White would steal two bases and score a run where the Grays defeated the Cleveland Blues 5-3. Afterward, White vanishes from baseball history.
He isn't listed as having played any other professional teams nationally or internationally or for development league teams. His collegiate performance with Brown isn't detailed either. Although his performance in this one game showed that he had potential to be a major player if he had gotten more pro league opportunities.
White would pass almost 58 years later on March 29, 1937, as a result of blood poisoning. Speculation points to White finding out about his racial background before heading off to Brown and took his father's advice to pass himself as White.
Prior to his death, White worked as a bookkeeper in Chicago. He married, had three children, and divorced by 1910. Investigations point to William Edward White being one of two people around the same age in the same city. However, since census records of this period were often vague it's hard to tell which William Edward White he was during this period.
SIGNIFICANCE
His role in baseball and sports history is mainly on being the first Black player in the major leagues. This was something often given to the Walker brothers who came along five years later. Being a replacement and not having a career—whether legendarily great or legendarily awful—didn't give him any mention beyond a footnote. That is until the Society of American Baseball Research did some digging and found that he was Black.
This only came after digging further into White's lineage since traceable Census records have him listed as White. In the end, he would still be overshadowed as a pioneer by Black players who had more of an impact.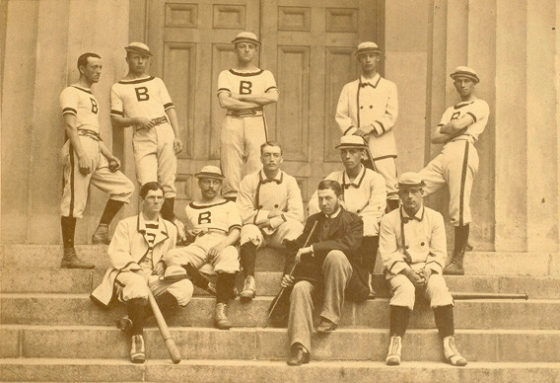 SOURCE: http://www.slate.com/articles/sports/sports_nut/2014/02/william_edward_white_baseball_s_first_black_player_lived_his_life_as_a_white.html