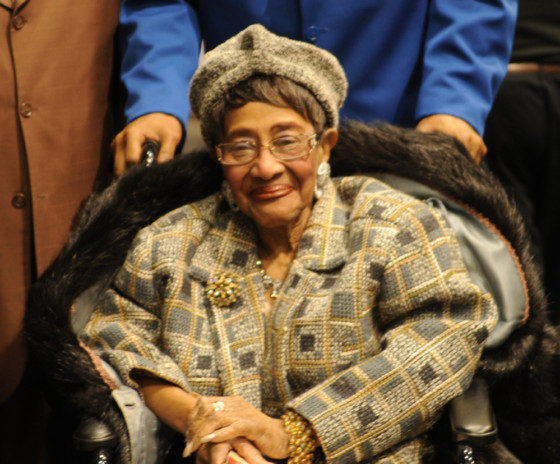 Willie Beatrice Barrow was an American civil rights activist and minister. She was the co-founder of Operation PUSH, which was named Operation Breadbasket at the time of its creation alongside Rev. Jesse Jackson. She became the first woman executive director of a civil rights organization, serving as Push's CEO. Barrow was also the godmother to President Barack Obama.
Willie Beatrice Taplin Barrow was born in Burton, Texas. She was the daughter of Nelson and Octavia Taplin. At the age of 12, she organized a demonstration with fellow students to protest that white students were allowed to ride the bus, but black students had to walk to school.
Barrow confronted the bus driver and demanded that he let her fellow students ride. When the bus driver confronted her about it, she replied by saying "Y'all can kill me if you want to. But I'm tired." When Barrow turned 16, she moved to Portland, Oregon, to study at the Warner Pacific Theological Seminary.
While still a student, Barrow and a group of black residents helped build one of the first black Churches of God in the city; she was ordained as a minister after graduation. She started working as a welder during World War II at the Kaiser Shipyards in Swan Island, Washington, where she met Clyde Barrow, whom she married in 1945 in Washington state.
Barrow eventually moved to Chicago along with her husband in the 1940s. She attended the Moody Bible Institute there to further her call to serve. Barrow also ran the youth choir at Langley Avenue Church of God, where she was approached by the minister to do some additional organizing for civil rights movement actions. Barrow campaigned for Harold Washington who became the first Black Mayor of Chicago in 1983. In 1984 and 1988, she worked for Jesse Jackson's Presidential campaign.
The 1950s, she worked with Martin Luther King and other Chicago ministers and activists as a field organizer for the Southern Christian Leadership Conference. In the 1960s she helped organize the Chicago chapter of Operation Breadbasket with Rev. Jesse Jackson.
Each Saturday, Barrow participated in demonstrations, and weekly she participated in Rainbow/PUSH's events. She helped many people by writing checks to cover their college tuition. She also spent her life mentoring over a hundred people in PUSH, helping them to move on to the next stage of the movement. Barrow was co-pastor of the Vernon Park Church of God in Chicago. She helped raise money for assisted living development in the south and to fund after-school programs. Barrow died on March 15, 2015; she was 90.
source:
http://www.thehistorymakers.com/biography/reverend-willie-t-barrow
https://www.britannica.com/biography/Willie-T-Barrow