Albert Ayler was a renowned jazz saxophonist and Cleveland Heights native. He is credited as the godfather of free jazz.
Ayler learned to play the saxophone from his father, often playing with him at church functions. Edward and Albert played alto saxophone duets in church and often listened to jazz records together, including swing era jazz and then-new bop albums. Ayler's upbringing in the church had a great impact on his life and music, and much of his music can be understood as an attempt to express his spirituality, including the aptly titled Spiritual Unity, and his album of spirituals, Goin' Home, which features "meandering" solos that are meant to be treated as meditations on sacred texts, and at some points as "speaking in tongues" with his saxophone.
Ayler attended John Adams High School on Cleveland's East Side, and graduated in 1954 at the age of 18. He later studied at the Academy of Music in Cleveland with jazz saxophonist Benny Miller. Ayler also played the oboe in high school. As a teenager, Ayler's understanding of bebop style and mastery of standard repertoire earned him the nickname of "Little Bird", after Charlie "Bird" Parker, in the small Cleveland jazz scene.
In 1958, after graduating from high school, Ayler joined the United States Army, where he switched from alto to tenor sax and jammed with other enlisted musicians, including tenor saxophonist Stanley Turrentine.
In 1963, Ayler returned to the US and settled in New York City, where he continued to develop his personal style and occasionally played alongside free jazz pianist Cecil Taylor. Ayler's most well-documented career year was 1964, during which he recorded many albums, the first of which was Witches and Devils in March of that year. Ayler also began his rich relationship with ESP-Disk Records in 1964, recording his breakthrough album (and ESP's very first jazz album) Spiritual Unity for the then-fledgling record label. In 1967 and 1968, Ayler recorded three LPs that featured the lyrics and vocals of his girlfriend Mary Maria Parks and introduced regular chord changes, funky beats, and electronic instruments.
Ayler disappeared on November 5, 1970, and he was found dead in New York City's East River on November 25, a presumed suicide. For some time afterwards, rumors circulated that Ayler had been murdered, with a long-standing urban legend that the Mafia had tied him to a jukebox. Later, however, Parks would say that Ayler had been depressed and feeling guilty, blaming himself for his brother's problems.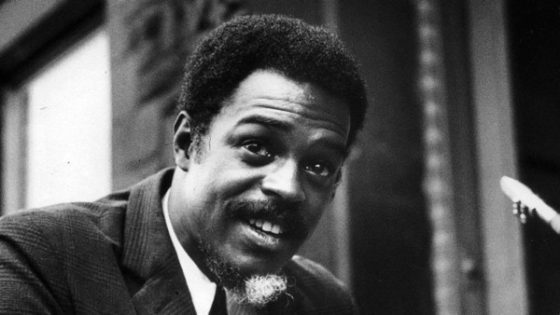 source:
https://www.allaboutjazz.com/albert-ayler-knocking-on-the-door-of-astral-jazz-by-chris-may.php