Allan Selwyn Bundy was the first Black Canadian combat pilot. He flew with the Royal Canadian Air Force (RCAF) during the Second World War and earned the title of Flying Officer. Officer Bundy flew more than 40 combat missions in Europe as a member of the 404 Squadron.
Bundy was born in Dartmouth, Nova Scotia, to father William Henry and mother Ruth Bundy. He was the oldest of four siblings: sister Lillian and brothers Carl and Milton. Bundy's youth was spent participating in athletic competitions. He was known for his track and field talent and specialized in the mile and half-mile run and the pole vault.
After high school, Bundy attended Dalhousie University with a scholarship through Imperial Order Daughters of Empire. He studied science with a concentration in chemistry.
At the beginning of the Second World War, Bundy decided to enlist in the Canadian military. The Bundy family had a tradition of military service (his father, for example, served in the all-black No. 2 Construction Battalion during the First World War) and Allan had long had a passion for aviation. In 1942, he officially traded in academic life for service in the Canadian military.
Bundy applied to join the RCAF in 1939 but was turned down. A close white friend of his, who had applied at the same time and with similar credentials, was accepted. Bundy believed his rejection was due to the recruiter's racial prejudice. In fact, the problem was more widespread, as the RCAF actively discouraged "Negro" as well as "Oriental" applicants; this policy was made explicit in October 1941, when recruiting offices were officially instructed to accept men of European descent only for appointment as air crew.
A few years later, the demands for manpower forced the RCAF to reconsider the prejudice of these policies, and as of  March 31, 1942, minorities were able to enlist as aircrew, technicians, and mechanics.
Bundy received a conscription notice ordering him to report for military service. The document assigned him to the Canadian Army as one of the ground troops. Bundy, who still wanted to join the RCAF, ignored the summons. The Royal Canadian Mounted Police followed up on his lack of response. When a police officer showed up at his home, Bundy demanded that he be given an opportunity as an airman with the RCAF. He was allowed to reapply to the RCAF and was finally accepted, three years after his first attempt.
Bundy earned the title Flying Officer. His commission made the news in Canada and the United States. Soon after he was commissioned, an article on Bundy appeared in the Pittsburgh Courier, one of the top popular African-American newspapers during that time. Allan Bundy died on December 9, 2001.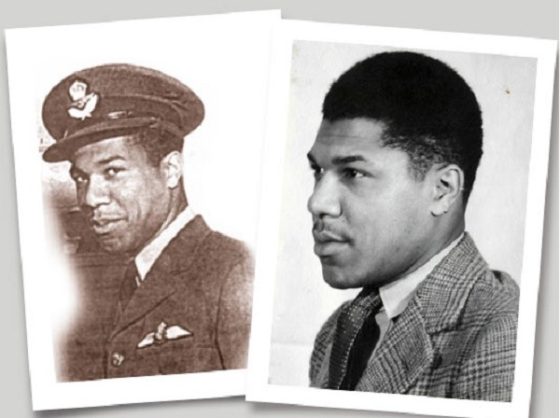 source:
http://thecanadianencyclopedia.ca/en/article/allan-bundy/