Throughout the former Spanish colonies, there are a number of heroes of slave revolts and independence rebellions. Barbados' national hero was a former West African slave by the name of Bussa who initiated a revolt–commonly referred to as Bussa's Rebellion–in April 1816.
Bussa was captured in West Africa and shipped off to Barbados towards the end of the 18th century. By the time of the rebellion, Bussa was working on one plantation as a slave driver. The slave driver was essentially an overseer taken from the slave ranks on a population.
[The position was a very polarizing one as it gave a few slaves some authority and they weren't subject to grinding field work but at the cost their fellow captives' welfare. The benefit of this position was that it gave Bussa flexibility to move around and plot this rebellion.
THE ROOTS OF BUSSA'S REBELLION
The slave trade was ended throughout Britain in 1807 but slavery itself continued. Following the failed push to get the Imperial Registry Bill made official in late 1815, rumblings of rebellion began.
There seems to be a misinterpretation of the bill by Barbados slaves that there would be terms or articles that allowed for their freedom. When the bill died in the House of Assembly wheel were set into motion and planning was started on April 14, 1816.
Bussa began getting the word out and organizing the rebellion through a close circle of conspirators. While originating on Bailey Plantation where Bussa was based, other slaves such as Nanny Grigg, Jackey, and John relayed the plan through Simmons Plantation and got other slaves and slave drivers on board.
Instrumental in getting the word out were several freed Black people. Richard Sarjeant, Cain Davis, and Roach were literate Blacks who held meetings with captives to organize the rebellions. Also assisting were literate slave drivers who could relay the news of British politics on the island and were able to navigate somewhat freely.
The whole time, planters noticed a stark change in the captives' attitudes on different plantations but didn't seem phased.
APRIL 16
By the time the rebellion ready to get off the ground several slaves who were either content in their position, loyal to their masters, or knew that failure meant a gruesome death exposed it.
On Bayley Plantation in St. Philip, Bussa and his commanders—Dick Bayley, King Wiltshire, Johnny Cooper, and another Johnny—took the fight to the plantation. Bussa's forces numbered around 400 and Barbados militia at 650 with field artillery. In the aftermath of the rebellion, British accounts by militia leadership and newspapers had the rebel death toll–executed and killed in battle–just shy of a thousand.
Unfortunately, his forces weren't as well armed. Bussa would die during the battle but his forces continued fighting with the militia. Eventually, they were subdued that same day. Bussa's Rebellion would mark a trifecta of significant slave uprisings—something feared by the Crown.
These other uprisings elsewhere in the British colonies became more and more violent and harder to quell. This is due in part to Britain's other conflicts elsewhere in the world. Not only that, but each plantation was different to some degree and so rebellions were planned accordingly.
Slavery as an institution was finally abolished in the British colonies in 1834. In 1998, Bussa was made one of the ten Heroes of Barbados earning the title "The Right Excellent Bussa."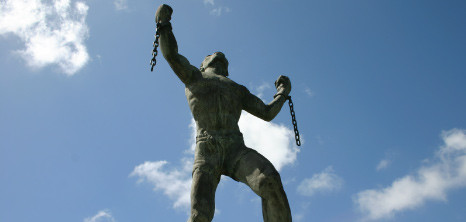 SOURCE: http://www.nationalarchives.gov.uk/education/resources/bussas-rebellion/