First Sergeant Alexander Kelly of Pennsylvania was one of several Camp William Penn warriors of the 6th U.S. Colored Troops to earn the Medal of Honor for bravery and courage at the Battle of Chaffin's Farm at New Market Heights, Virginia on September 29, 1864.
Kelly was born on April 5, 1840, in Saltsburg, Conemaugh Township of Indiana County, Pennsylvania. Kelly and his siblings were orphaned by 1850, when he was about 10 years old, and lived with an uncle, David Kelly, a "salt boiler," and his wife Nancy.
Before the war, Kelly worked as a coal miner in Western Pennsylvania. When Kelly's brother was drafted, he enlisted as a substitute in August 1863 and by September 29, 1864, was serving as a First Sergeant in Company F of the 6th U.S. Colored Infantry Regiment. The facility was the first and largest federal camp to train almost 11,000 black soldiers during the Civil War.  Kelly was small in stature and stood slightly over 5ft tall. On that day, his unit participated in the Battle of Chaffin's Farm in Virginia, and it was for his actions during the battle that he was awarded the Medal of Honor six months later, on April 6, 1865. The Battle of Chaffin's Farm, was also known as Laurel Hill and combats at Forts Harrison, Johnson, and Gilmer, was fought in Virginia on September 29–30, 1864, as part of the Siege of Petersburg in the American Civil War. The fighting around Chaffin's Farm cost the nation nearly 5,000 casualties.
Years later, Alexander Kelly married but the couple never had children of their own. They did, however, take in orphans from the street.  First Sergeant Alexander Kelly died at age 67.
Kelly's courage at New Market Heights is depicted in a painting, Three Medals of Honor by artist Don Troiani. The painting was scheduled to be unveiled June 24, 2013, at the Union League of Philadelphia.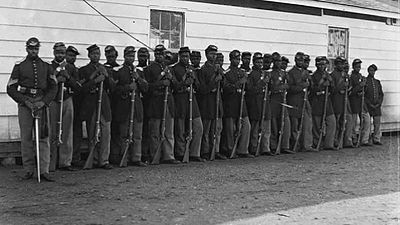 source:
http://housedivided.dickinson.edu/grandreview/2010/06/04/alexander-kelly-and-the-battle-of-chaffins-farm/
https://en.wikipedia.org/wiki/Alexander_Kelly