By Lestey Gist, The Gist of Freedom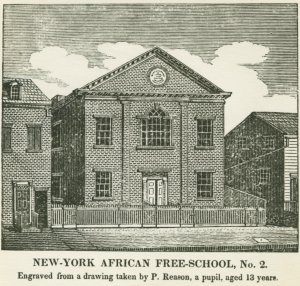 As a community of free black property owners, Seneca Village was unique in its day. Beginning in 1825, parcels of land were sold to individuals and to members of the African Methodist Episcopal Zion Church.
Described as the "largest and wealthiest church of colored people in this city, perhaps in this country." Within few years, the community developed into a stable settlement of over 250 working class people with African-Americans owning more than half the households in the village. Two African Methodist churches were constructed in the village.
Colored School No. 3, one of the few black schools in New York City, was housed in the basement of one of them.
All Angel's Church at 99th Street had a racially integrated congregation of African-Americans from Seneca Village and Irish and German parishioners.
Seneca Village was also a model. There, on the land that extends between 81st and 89th Streets, between 7th and 8th Avenues, prominent African-Americans built their homes, churches, and schools, and formed powerful social ties in the mid-nineteenth century. Paradoxically, through the loss of their homes to the city, the residents of Seneca Village enabled the creation of one of New York's most welcoming, integrated public spaces.
It was located in the hilly, rock-strewn woods between 82nd and 89th Streets and 7th and 8th Avenues. At that time it was a long walk to the crowded city. The village grew steadily from 1825 when Andrew Williams first bought three lots for $125. By 1832, about 25 more lots were sold to African-Americans. And by the early 1850s, the village boasted three churches, a school, and a population of some 300 people. Over the years, German and Irish immigrants joined the community. This diverse community lived in peace, attending the All Angel's Church together and sharing the services of one midwife.
Source: Facebook