Cecil Bassett Moore was a lawyer, civil rights activist and leader of the Philadelphia National Association for the Advancement of Colored People (NAACP) from 1963 to 1967. He was best known for being a politician with a charismatic personality.
Born in West Virginia, he served in the U.S. Marine Corps during World War II. In 1947, after his discharge at Fort Mifflin, Moore moved to Philadelphia and studied Law at Temple University. He attended school at night and paid for his schooling with a job as a liquor wholesaler. He cultivated ties with the bar owners to whom he sold his wares and they became an important basis for his political constituency later in his career.
After earning his law degree, he was known as a no-nonsense lawyer who fought on behalf of his mostly poor, African-American clients concentrated in North Philadelphia. He succeeded in mobilizing large numbers of working class blacks into direct political action. He combined a commitment to institutional desegregation common to the NAACP with a black nationalist belief in self-sufficiency that was at odds with the usual practices of the organization.
Moore's military experience influenced him and he never hesitated to question other leaders' use of non-violence. It was rumored, that Moore actively discouraged Martin Luther King Jr. from visiting Philadelphia;  but he was one of the first civil rights leaders to  welcome Malcolm X's growing role in the national movement. He sought the Fifth District seat on the Philadelphia City Council in 1975, after incumbent Councilwoman Ethel D. Allen announced she would vacate the seat, and seek re-election to an at-large seat. He won the election.
At the end of his first term, attorney John Street announced his intention to challenge Moore for his seat in the 1979 election. However, Moore was in failing health, he initially vowed to see-off the challenge from Street. However, he died before the May primary. Cecil Bassett Moore died on February 13, 1979.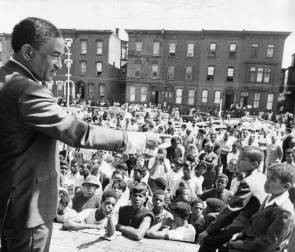 sources:
http://www.philaplace.org/story/1244/
http://www.phillytrib.com/commentary/cecil-b-moore-anger-intellect-and-black-pride-personified/article_d03346e6-67d4-51ff-92a3-1ee790e049d6.html