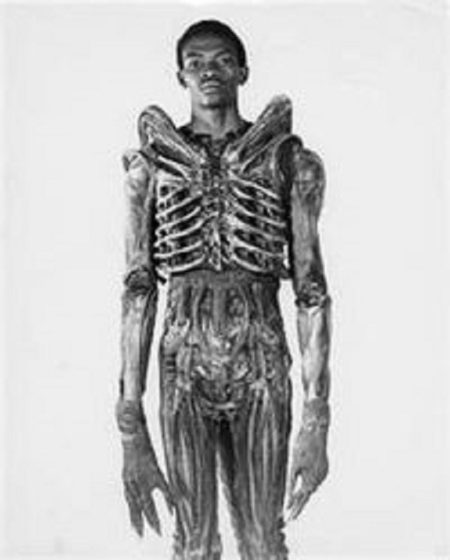 Bolaji Badejo was a Nigerian visual artist and actor who became known as one of Hollywood's most unlikely on-screen performers in the role of the Alien in Ridley Scott's 1979 film Alien.
Badejo was discovered in a bar by a member of the film crew of Alien (1979). The crew members felt Badejo would be ideal to play the title creature as director Ridley Scott wanted to create a monster that looked as if no human could be behind the mask. It was to be long and angular, with an impossible frame that few people would be able to fill. Even though he had no training or experience as an actor, Badejo's thin, 6ft 10ins body made him ideal for the part.
To prepare for the film, Badejo took tai chi classes, spoke with Scott regarding his performance, and vigorously rehearsed the Alien's gliding movement and mantis-like posture on the Nostromo set. "Bolaji worked hard and immersed himself into the choreography lessons and performing in the film
As a child, Badejo had been diagnosed with sickle cell anemia. Several months after his 39th birthday, Bolaji fell ill and was taken to St. Stephen Hospital in Ebute Metta, Lagos, where he died on December 22, 1992 of complications from the disease.
sources:
http://avp.wikia.com/wiki/Bolaji_Badejo