Constance "Connie" Enola Morgan was recruited at the age of 19 into the Negro Baseball League. Morgan is one of the most interesting and little-known figures in African-American history.
Morgan, born on October 17, 1935 in Philadelphia, Pennsylvania, was a right-handed second baseman who played for the Indianapolis Clowns and the North Philadelphia Honey Drippers, an all female team. Morgan had a career batting average of .368; interestingly enough, the record is held by Ty Cobb at .366.
An all-around athlete, Morgan also played basketball in the off-season. The black press often viewed her along with players, Mamie Johnson and Toni Stone, as talented players who were box office draws. Before signing with the Clowns, she attended John Bartrum High School and William Penn Business School in her hometown.
She was the third woman to play professional baseball in the Negro league. She replaced second-base player and the first woman in the league, Toni Stone, in the Indianapolis Clowns in 1954. Connie Morgan died in 1996.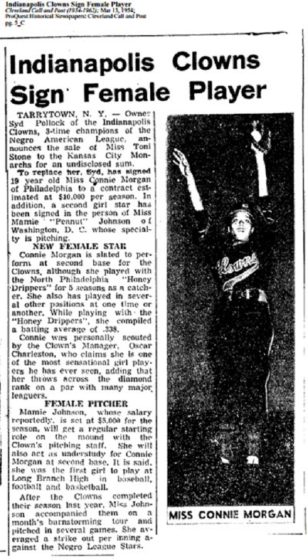 sources:
http://www.baseball-reference.com/bullpen/Connie_Morgan
http://www.nlbpa.com/the-athletes/morgan-enola-constance—connie