William Lloyd "Little Willie" Adams went from being a numbers runner on the streets of Baltimore to the city's first prominent African-American venture capitalist, bankrolling numerous black-owned businesses such as Super Pride supermarkets and Parks Sausage.
Adams grew up in Zebulon, North Carolina and moved to Baltimore as a teenager. After completing a fast track of advanced college courses, he took on multiple jobs during the Depression era in a rag factory, delivering newspapers, repairing bicycles and operating a shoe-shine parlor
At the age of 16, he decided to become his own lottery boss after running into problems with his former numbers boss. Philadelphia gangsters, according to newspaper accounts at the time, bombed the tavern in 1938, allegedly. Adams' wealth was grounded in the illegal lotteries that he operated. He once boasted that he handled $1,000 a day $8,000 in today's money in illegal lottery operations. In 1940, Adams added to his ever-expanding business interests when he founded Adams Realty Brokers in the 1500 block of Pennsylvania Ave.
African-American businessmen who turned to Mr. Adams for financial help had to agree to the condition that he would have a 51 percent stake in the business, no matter how small his personal investment. Adams' apparent Midas touch did not extend to everything in which he invested.
By 1969, Parks Sausage became one of the first black-owned companies to go public on Wall Street. Next was the Super Pride Markets chain and Carr's Beach amusement park. Adams made money on investments as 51% owner of the companies. Unfortunately, some were failures, like a soft drink by prize fighter Joe Louis called Joe Louis Punch.
Adams' other philanthropic interests included the NAACP, the United Negro College Fund, Liberty Medical Center, the YMCA, the Jewish National Fund, and St. Francis Academy. Adams died in 2011 at the age of 97.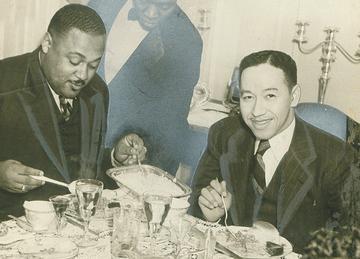 source: