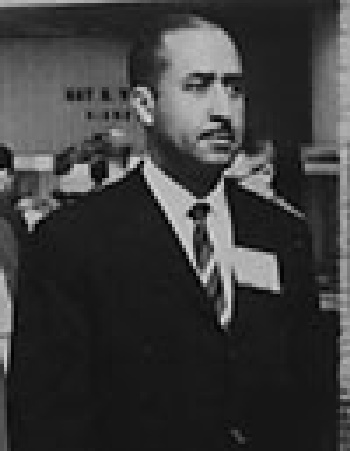 Dr. John Lawrence Sullivan Holloman was a renowned physician and activist. Holloman was born in Washington, D.C., in 1919., the son of the Rev. John L.S. Holloman and Rosa V. Jones Holloman. As a young child, Holloman attended the John F. Cook Elementary School and later graduated from Dunbar High School in Washington in 1936.
He enrolled at Virginia Union University in Richmond, Virginia, majoring in biochemistry. In 1943, he was received his M.D. at the University of Michigan.
Dr. Holloman did his internship in Harlem Hospital, New York. He later served two years in the Medical Corps of the U.S. Army. After the Army, Dr. Holloman took a six-month postgraduate course in internal medicine during a part of which he was an admitting physician at Bellevue Hospital. In 1946, he returned to Harlem Hospital as a chief resident in medicine. In 1948, he established a private practice in New York.
He was a member of the Board of Trustees of Virginia Union University for about 10 years, and its president for four years. He was temporary chairman of the defunct Medical Committee for Civil Rights in 1963-64 and was chairman of the Medical Committee for Human Rights until 1966. John L.S. Holloman died in 2002.
source:
http://aaregistry.org/historic_events/view/john-ls-holloman-doctor-and-activist