Edward Gay Robinson, Sr. was an American football coach. He coached the second-most victories in the NCAA Division in history and the third most overall. Robinson was the coach who single-handedly cracked the NFL and opened the door for stars from historically black colleges and universities.
Robinson was born in Jackson in East Feliciana Parish in South Louisiana, to the son of a sharecropper and a domestic worker. He attended McKinley High School and graduated in 1937. He then earned his bachelor's degree from Leland College in Baker in East Baton Rouge Parish, then obtained his master's degree in 1954 from the University of Iowa in Iowa City, Iowa, of which he was a member of Alpha Phi Alpha fraternity.
Robinson had big dreams of someday becoming a college football coach himself.  But he was faced with the challenges that many blacks were facing during that time-Jim Crow discrimination. The only college position he could possibly hope to obtain would be at a traditionally all-black school, and these were all well-staffed. Having earned his bachelor's degree at Leland, Robinson returned to Baton Rouge and took a job at a feed mill for 25 cents an hour. Not long after that, he heard that the Louisiana Negro Normal and Industrial Institute—now Grambling State University—was searching for a new football coach. He applied for the job.
Robinson served as the head coach at Grambling State University a historically black school for 55 years. He was hired by the college president and head baseball coach, Ralph Waldo Emerson Jones.
However, Robinson had several other jobs Eddie Robinson including teaching at Grambling High School and coaching the girls' basketball team during World War II. His girls' team lost the state championship by 1 point. Robinson hated losing, whether it was in a rigged system he couldn't control or a game he could. He also coached boys basketball, baseball, directed the band and was in charge of the cheerleaders with a small budget.
Robinson has been honored by Grambling with the naming of its football facility, built in 1983, Eddie Robinson Stadium. A street on GSU's campus is also named for him. Edward Gay Robinson developed Alzheimer's disease after his retirement. He died on April 3, 2007.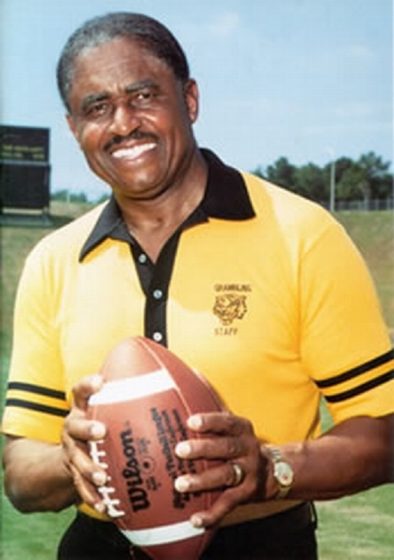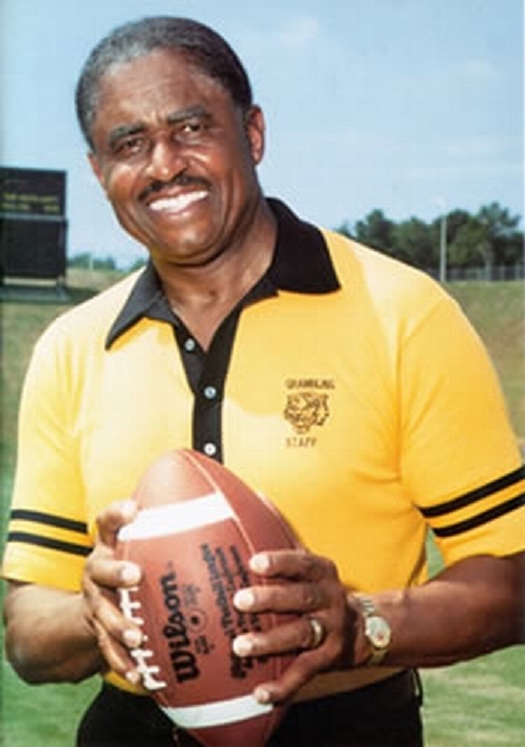 sources:
 http://www.robinsonmuseum.com/pages/bio.php
http://collegefootball.about.com/od/coachinggreats/a/Eddie-Robinson.htm
http://www.foxnews.com/sports/2013/11/07/eddie-robinson-jr-son-legendary-coach-dies-at-70.html