Leigh Whipper was the first African-American member of the Actors' Equity Association (1913) and a founding member of the Negro Actors Guild of America (1937).
Whipper graduated from the Howard University School of Law in 1895, and was admitted to the State Bar of South Carolina. However, he left the legal field soon afterwards to pursue an acting career. By the end of the century 19th century, he made his first Broadway debut in Georgia Minstrels. He went on to appear in classic Broadway productions, such as Of Mice and Men, and Porgy. Whipper, who also participated in radio and television programs, appeared in his first movie in 1920. He appeared in Oscar Micheaux's silent race films, Symbol of the Unconquered (1920) and Within Our Gates (1920). However, his most notable era as a film actor was between the years 1939 and 1947. Although he sometimes did not receive any screen credit, he acted in twenty films during this time.
During the World War II, Whipper was a member of the steering committee of Negro Division the Hollywood Victory Committee. He received a special honor from the Ethiopian government for his portrayal of Emperor Haile Selassie. Whipper retired from acting in 1972 and settled in Harlem, New York, where he died in 1975 at the age of 98.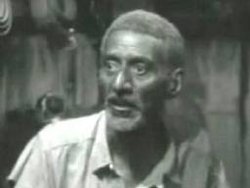 source: