George Coleman Poage, was the first African-American athlete to win a medal in the Olympic Games, winning two bronze medals at the 1904 games in St. Louis.
Poage was born in Hannibal, Missouri. His family moved to La Cross, Wisconsin, in 1884. After the death of his father in 1888, Poage along with his mother and siblings moved into the home of Mary and Lucian Easton.
Poage excelled in his studies and as an athlete at La Crosse High School. He was considered the top athlete at the school and, in 1899, was the class salutatorian, becoming the school's first African-American graduate. Poage was the first black athlete to run for University of Wisconsin, specializing in the short sprints and hurdles. A consistent point winner for his team, he quickly became well respected. When the track coach was called out of town in 1902, he placed Poage in charge of the team in his absence.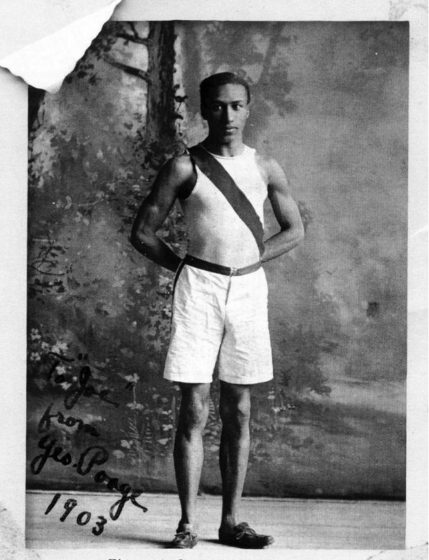 The Milwaukee Athletic Club sponsored Poage to compete in the 1904 Summer Olympics in St. Louis, Missouri. Many prominent African-American leaders had called for a boycott of the games to protest racial segregation of the events in St. Louis. Poage remained in St. Louis after the Olympics, working as a school principal for a year before becoming a teacher at segregated Charles Sumner High School. At the school, he was the head of the English department, teaching English composition, literature, and Latin. He also helped coach the school's sports teams and supervised various extracurricular activities such as debate and theater.
In 1924, Poage was hired by the United States Postal Service and worked as a postal clerk for nearly thirty years. He died in 1962.
sources:
http://www.blackpast.org/aah/poage-george-coleman-1880-1962
https://worldhistoryproject.org/1880/11/6/george-poage-is-born