Vinnette Carroll was a talented actress, playwright, and director. Although she initially trained to be a psychologist, she decided to pursue acting and ultimately became Broadway's first African-American female director.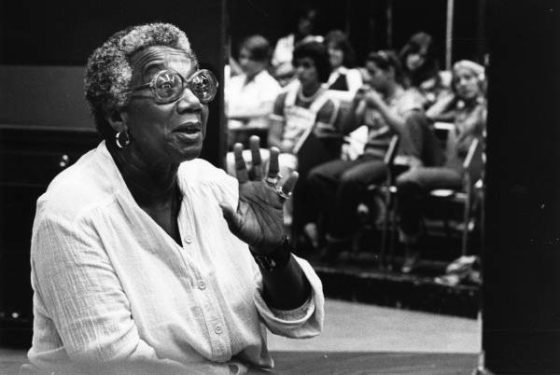 Carroll was born on March 11, 1922, in New York City to Florence and Edgar Carroll. At the age of three, her family moved to Jamaica, where Carroll spent most of her childhood in the West Indies. She attended Long Island University and received a bachelor's degree. She later received an M.A. at New York University. She was a Ph.D. candidate in psychology at Columbia University, but decided to pursue a career in acting and did not finish her doctoral degree.
Carroll worked as a clinical psychologist with the N.Y.C. Bureau of Child Guidance before pursuing acting. In 1948, she accepted a scholarship to attend the Erwin Piscator's Dramatic Workshop at the New School for Social Research and studied with Lee Strasberg, Stella Adler, Margaret Barker, and Susan Steele. She made her professional stage debut at the Falmouth Playhouse acting in Androcles and the Lion.
Her Broadway acting debut came in 1956 when she appeared in a revival of A Streetcar Named Desire. In 1967, she founded the Urban Arts Corps in New York City, an organization assisting minority performers in all theatrical disciplines. In 1972, Carroll began her collaboration with songwriter Micki Grant. She became the first African-American woman to direct a production on Broadway when Don't Bother Me, I Can't Cope opened at the Playhouse Theater.
She set the tone for professionalism in theatrical arts, especially for black professionals in the industry. As a playwright, expression of identity through gospel music was an essential aspect of her work. She helped to develop a new form of theater, "the gospel song-play," in order to capture the richness and variety of life through music, theater, and dance.
Her theatrical work was about the reaffirmation of life and people. She aimed to provide a voice to African Americans and other minority communities that had been culturally and artistically silent.
Vinnette Carroll died on November 5, 2002 in Lauderhill, Florida.
source:
http://aaregistry.org/historic_events/view/vinnette-carroll-was-very-talented-arts