In 1919, Georgia Ann Hill Robinson became the first African-American policewoman in the United States. In 1916, Robinson was recruited as a volunteer for the Los Angeles Police Department. Later, on June 10, 1919, she was appointed as a paid policewoman as a matron in the jails and later worked juvenile and homicide cases. She held a degree in the nursing field and later founded the Sojourner Truth Home.
Robinson never knew her parents. She was first raised by her older sister, then later in a convent. At the age of 18, she moved to Kansas where she took the job of governess. She later met and married her husband, Morgan Robinson.
Robinson became involved in various community organizations, where she was spotted by a Los Angeles Police Department recruiter who offered her a job. On July 25, 1916, Robinson became the first black policewoman in LAPD history, and in the entire United States. She was assigned as a jail matron and went on to work juvenile and homicide cases.
In 1928, Robinson attempted to break up a fight between two drunken women. She suffered a head injury that led to total permanent blindness. She went on disability, began working with local community leaders to desegregate Los Angeles beaches and schools, and continued her work with women in the shelter. Robinson died in 1961.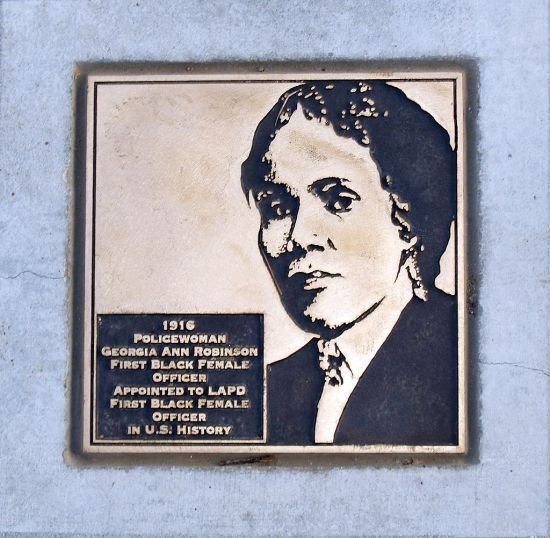 source:
http://www.findagrave.com/cgi-bin/fg.cgi?page=gr&GRid=49397780
http://www.szone.us/gallery/image-6482.html