Everett "Monster Man" Eddy was a tough, world ranked heavyweight striker out of Detroit, Michigan. He is known for fighting opponents of various disciplines and being a fixture in the early 1970s martial arts tournament circuit mainly in the midwestern U.S.. Born in the late 1940s, he stood 6′ and weighed in the neighborhood of 230lbs.
Coming from a football and wrestling background, he entered martial arts studying Taekwondo under Johnny Lee. To understand Eddy's significance to martial arts it's important to have an idea of the status of the sport in the U.S. during the 1960s and 1970s.
FIRST BOOM OF MARTIAL ARTS
Stateside this was the first boom for martial arts before the late 1980s-1990s. With the breakout of Bruce Lee to Western audiences cam action films from Hong Kong. Prior to this, you had American service members studying Japanese martial arts following World War II.
Citizens of Hawaii had exposure to martial arts as well during the late 1940s and 1950s. Along with the breakout of Bruce Lee in the 1960s and 1970s, there was also Ed Parker of Hawaii and his American Kenpo.
EVERETT EDDY'S CAREER
While he trained throughout the 1960s, he entered the national stage in 1971 with a big victory at the inaugural Midwest Tang Soo Do Championships for the Grand Championship. Two years later he would lose the Michigan Invitational finals and the $1,000 purse to Flem Evans.
Even in losing that tournament, he did pick up a number victories in 1973 including two against Parker Shelton at the USKA Grand National and the inaugural Taekwondo Open Championships. He would advance in the Four Seasons Nationals defeating "Giant Killer" John Natividad but lost later in the tournament. He finished third in the Battle of Atlanta defeating Larry Reinhardt but losing in the semi-finals to Jeff Smith.
Everett Eddy's 1974 was better. He'd run into rival Jeff Smith twice early on and lost to him at the U.S. Championships and the Battle of Atlanta before defeating him at the Hidy Ochiai Karate Classic for the Grand Championship and the $1,000 prize.
He followed up 1975 in a similar fashion and also took on a bout against retired boxer Duke Sabedong. That same tournament he lost in the finals to Victor Rapoza via knockout. Later in the year, he lost a mixed bout against the 6'6 boxer Horst Geisler by knockout.
LATER CAREER
In the late 1970s, Evertt Eddy headed to Japan to participate in mixed fights against Antonio Inoki, best known as the founder of the immensely popular New Japan Pro-Wrestling organization and for his June 1976 mixed bout against Muhammad Ali. Inoki also sported a karate background and was a multiple sport athletic star in Brazil during his youth.
He was very keen on promoting fights between professional wrestlers and trained martial artists as part of his "strong style" (meaning "wrestling is the strongest style") match ideology and booking approach. Eddy first faced Inoki in August 1977 losing via knockout. There would be a similar result the following year in a rematch.
Similar to other martial artists of the period, Everett Eddy tried acting during the late 1970s with his most notable role being a fighter in Disco Godfather from 1979. His hottest period was the 1970s as a whole. While there were numerous other Black martial artists from the point—who will be explored in the series—he was one of the larger ones in stature in a style that often saw smaller, faster fighters as the major names. Monster Man was one of those who showed that larger fighters weren't all power but could also be agile.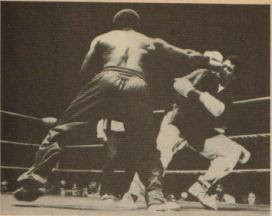 SOURCE
-http://karate-in-english-lewis-wallace.blogspot.com/2009/07/everett-monster-man-eddy.html
-vs. Jeff Smith (YouTube): https://www.youtube.com/watch?v=yo3XZlA23Gg