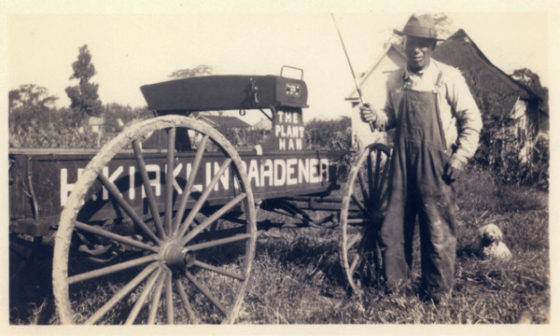 Henry Kirklin was a former slave who became a prize-winning gardener and horticulturalist. According to some records, Kirklin may have also been the first African American to teach at the University of Missouri. Kirklin taught in an informal, unofficial capacity, as the university did not allow blacks to hold official teaching positions during his lifetime.
Kirklin was born into slavery in Boone County, Missouri, on June 6, 1858, to his slave mother, Jane. When he was five years old, his mother "fetched" him "out of slavery." As a teenager, Kirklin began working at Joseph B. Douglass's nursery and greenhouse business in Columbia. The first year he worked for Douglass he earned "30 cents a day, the second year 40 cents a day, and so on," until after six years Kirklin earned "a dollar a day."
He joined the University of Missouri's horticulture department as a gardener and greenhouse supervisor, perhaps at the urging of Douglass, who served as the department's general agent. It was reported that "hundreds of students learned the fine art of pruning and grafting" from Kirklin.
By 1900 Kirklin was so successful that he purchased additional land to keep up with the demand for his fruits and vegetables. Customers could buy food from him or purchase plants to start their own garden. Local businesses bought large amounts of his produce. University of Missouri professors brought their students to Kirklin's farm to study "propagation of berry vines, fruit trees, and vegetables.
He turned down repeated offers to teach agriculture at Lincoln Institute, now Lincoln University, in Jefferson City, choosing to remain a modest "gardener."
Kirklin won many prizes over the years. One of his most impressive accomplishments came in 1907 when he won a gold medal for his canned vegetable entry at the Jamestown Exposition fair in Virginia. Henry Kirklin died of heart disease on August 14, 1938, in Columbia.
source:
Original article found at:
https://shsmo.org/historicmissourians/name/k/kirklin/
http://www.columbiatribune.com/article/20150327/Lifestyle/303279889