The New York Slave Conspiracy of 1741 is an event that some historians have dismissed. Between March and April of 1741, ten fires blazed in the city of New York, with four fires on a single day in April. A grand jury concluded the fires were the work of African-American arsonists who had ties to a larger conspiracy to burn the city and murder all the white people.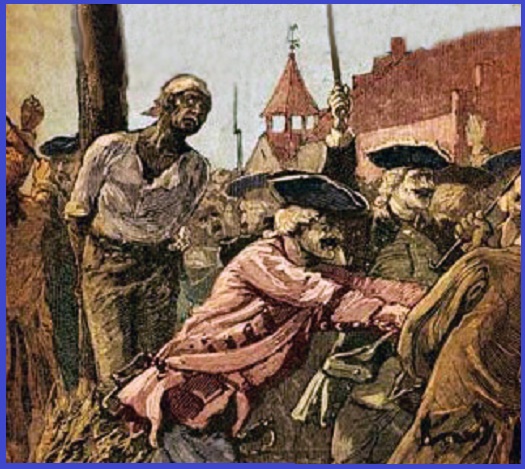 Hundreds of slaves were taken to the basement of the city hall on charges of burglary, arson, and insurrection. A 16-year-old Irish indentured servant, Mary Burton, was arrested in a case of stolen goods. She testified against the others as participants in a supposedly growing conspiracy of poor whites and blacks to burn the city, kill the white men, take the white women for themselves, and elect a new king and governor.
However, New England critics accused the New Yorkers of imaging the plots, as they pointed out the similarities of the events against the trials in Salem, Massachusetts, in 1692. During their interrogation, slaves were beaten, harassed, and heckled by whites. These tactics probably contributed to the confession of 81 blacks.
Most of the convicted people were hanged or burnt. The bodies of two supposed ringleaders, Caesar, a slave, and John Hughson, a white cobbler and tavern keeper, were gibbeted. Their corpses were left to rot in public. Seventy-two men were deported from New York and sent to Newfoundland, various islands in the West Indies, and the Madeiras.
After the confessions, executions, and deportations, the New York Assembly expanded its night watch, passed a restriction on slaves fetching water at any but the nearest pump, decided to import its slaves no longer from the Caribbean, which had previously supplied New York with nearly three-fourths of its slave population, but from Africa instead because the colonists believed that African slaves were less likely to organize than slaves from the Caribbean.
source:
http://www.blackpast.org/aah/new-york-slave-conspiracy-1741
http://www.nycourts.gov/history/legal-history-new-york/legal-history-eras-01/history-new-york-legal-eras-new-york-slave-conspiracy-trials.html