James Augustine Healy was the first African American bishop of the Roman Catholic Church and the first black American ordained a priest in that religion. (Augustus Tolton, a former slave who was publicly known to be black when ordained in 1886, is sometimes credited as the first black Catholic priest in the U.S.).
Born in Georgia, Healy's father was a white plantation owner and his mother, a black slave. He was sent north for his education, he graduated from Holy Cross in 1849.  After graduating college, Healy wished to enter the priesthood. He could not study at the Jesuit novitiate in Maryland, as it was a slave state. With the help of John Bernard Fitzpatrick, Healy entered a Sulpician seminary in Montreal. In 1852, he transferred to study at Saint Sulpice Seminary in Paris, working toward a doctorate and a career as a seminary professor. After a change of heart, he decided to become a pastor.
Healy was ordained at the Cathedral of Notre Dame Paris on June 10, 1854, becoming the first African American ordained to the Roman Catholic priesthood. He is credited with greatly expanding the Catholic church in Maine at a time of increased Irish immigration; he also served Abenaki people and many parishioners of French Canadian descent. He spoke both English and French.
In 1875 he was appointed bishop of the Diocese of Portland which covered all of Maine and New Hampshire at the time. He had been serving in Boston as a priest. Healy was the only member of the American Catholic hierarchy to excommunicate men who joined the Knights of Labor, a national union, which reached its peak of power in 1886.
Months before his death, Healy was called as assistant to the Papal throne by Pope Leo XIII, a position in the Catholic hierarchy just below that of cardinal. Bishop James Augustine Healy died August 5, 1900.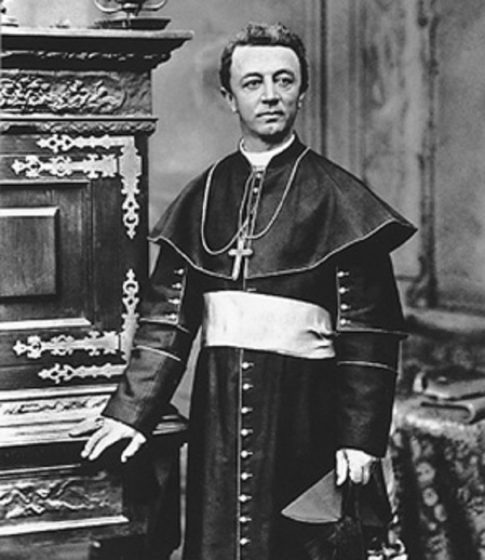 source:
https://en.wikipedia.org/wiki/James_Augustine_Healy