John W. "Bud" Fowler was one of the first professional black baseball players when in 1872 he joined a white team in New Castle, Pennsylvania. Jackson played for the team for two and half decades; he played in parts of the country that Blacks were not permitted to play.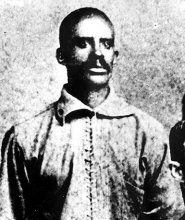 Fowler was born in Fort Plain, New York on March 16, 1858. However, he spent his childhood growing up in Cooperstown, N.Y. Fowler played in crossroad farm towns and in mining camps, in pioneer Western settlements and in larger Eastern cities. Fowler could play most any position, but it was as a second baseman and pitcher where he excelled at best. His habit of calling teammates and other players "Bud" led to his nickname.
During the time Fowler was playing baseball, the sport was just being structured at the turn of the century. He was among sixty black players who were playing in the white leagues across the country. At this time there was no color line, and he played with white ball clubs until the color line interfered around 1900. He was the only play player on an all-white team until 1895.
Racial prejudice led Fowler and other players to organize the Page Fence Giants in Adrian, Michigan in 1895. There they played other Negro and all-white teams. Fowler's teams disbanded numerous times during the course of his career.
It was also difficult for him to find teams that would take him in, because of his race. Fowler was recognized for his skills at second base and fine base running techniques. John W. "Bud" Fowler died on February 26, 1913.
Sources:
http://coe.k-state.edu/annex/nlbemuseum/history/players/fowler.html
http://www.blackpast.org/aah/fowler-john-bud-w-1858-1913