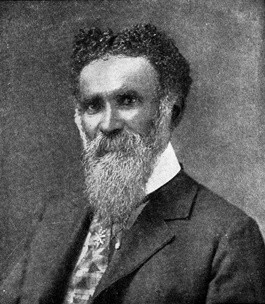 Dr. William Key was born a slave in 1833. Captain John Key was his master. Upon the Captain's death when Bill was five years old, he willed a certain family of slaves including William to his cousin, John W. Key of Shelbyville, Tennessee. As young as the age of six, Key demonstrated a remarkable talent for working with horses and mules.
As a young boy, he was given special attention because of his ability to work well with the farm animals. He learned to read, and was able to read veterinary texts and experimented with animal remedies.
The relationship between the John W. Key family and Bill continued to grow stronger and after the Civil War when the Key family lost everything, Bill, who by then had accumulated quite a sum of money, stepped in and helped send John W. Key's two sons to Harvard. These are the same two young boys that Bill had followed into the Civil War fighting to protect them from harm.
Bill became a successful veterinarian and equine dentist. Known as Dr. Key, he also practiced dentistry and other healing arts for slaves.
Dr. Key opened a horse hospital in downtown Shelbyville. While he had no formal training, he was considered to be a veterinarian by the townspeople. He also opened a racetrack, a restaurant, a hotel, and operated a successful pharmaceutical business. Within five years, "Dr." Key was one of the most prosperous men in Shelbyville. This gave him the resources to turn his attention to the sport of kings, horse racing, and his goal was to breed the world's fastest racehorse. Beautiful Jim became a celebrity thanks to the aggressive promotion of A. R. Rogers. The horse performed at large venues from Atlantic City to Chicago. Dr. Key often emphasized that he used only patience and kindness in teaching the horse, and never a whip.
Although Beautiful Jim was clearly gifted his opportunities were limited by Dr. Key's race. No matter how eloquent he was, or how talented, because Dr. Key was a black man in the 1800s he was only allowed to participate in selected competitions.
In 1897, Dr. Key was asked to serve on the "Negro Committee" at the Tennessee Centennial Exposition. Beautiful Jim went along and made his stage debut in front of none other than President William McKinley. President McKinley offered high praise for both the horse and the training methods.
When Dr. Key traveled along with Beautiful Jim, the horse traveled in private train cars, drank purified water and ate hay that was fit for a star of his caliber. He also had quite an entourage. He traveled with Dr. Key, two grooms, a veterinarian and Monk, a former stray dog that served as the horse's companion and bodyguard. Monk, the dog liked to stand on the horse's back.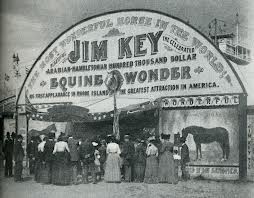 source:
http://tennesseeencyclopedia.net/entry.php?rec=736