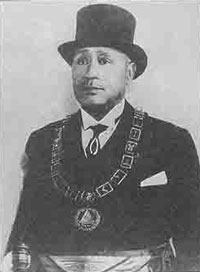 John Wesley Dobbs was a postal clerk, civic leader, activist, and a key figure in the integration of Atlanta, Georgia. He was often referred to as the unofficial "Mayor" of Auburn Avenue.
Dobbs was born in Marietta, Georgia on December 3, 1882. Two years after his birth his mother and father separated. His mother moved to Savannah to work in the home of a white family there, leaving Dobbs and his sister in the care of his grandparents and various other relatives. While still in grammar school, Dobbs shined shoes and delivered newspapers to supplement the family income.
In 1897, he went to Atlanta, worked at a drugstore, and attended Atlanta Baptist College (Morehouse College). In 1903, Dobbs passed the U.S. postal exam to become a postal clerk and assumed a highly respected position for a Black man at the turn of the century.
In 1911, Dobbs was initiated into the Prince Hall Masons, where, within three years he would become their Grand Warden. In 1932, he became Grand Master of the Prince Hall Masons. Over the next 30 years, Dobbs was active as a speaker for the equality of Black America. In 1936, he spoke for 2 hours at big Bethel AME church to awaken the political conscience of Atlanta's Blacks.
Dobbs founded the Atlanta Civic and Political League in 1936 and, with attorney A. T. Walden cofounded the Atlanta Negro Voters League in 1946. Both of these leagues advocated voter registration and black political unity.
During the 1950s Dobbs continued his work toward African-American equality. He constantly pressed Hartsfield to fulfill other promises made to the black community. Dobbs' health began to decline in the late 1950s, and on August 21, 1961, he suffered a stroke. He died nine days later, on August 30, 1961, the same day that Atlanta city schools were desegregated.
Sources:
http://historyatlanta.com/john-wesley-dobbs-house/
http://www.georgiaencyclopedia.org/articles/history-archaeology/john-wesley-dobbs-1882-1961