Frank Boyd was a celebrated organizer in Minnesota for the country's most influential African-American labor union, the Brotherhood of Sleeping Car Porters.
Boyd was born on November 17, 1881, the oldest of four children. He grew up in Atchison, Kansas, a railroad town where he received seven years of schooling.
In 1907, Boyd found work as a Pullman porter, tending passengers on the Pullman Company's sleeper cars. For an extra charge, porters provided travelers with beds and other comforts. It was a desirable job given the lack of jobs for Black men during that time.
On the road, porters were on duty almost 24 hours a day, always on call; workers received no overtime pay until they had worked 400 hours in a month. The company charged them for their food, uniforms, and even the polish they used on passengers' shoes. Still, by the early 1920s, the Pullman Company employed more Blacks than any other company in the country.
Boyd took part in organizing attempts in 1909 and 1910 and a wage-increase petition in 1912. In 1918, he joined porters from the Milwaukee Road in the Railway Men's International Benevolent Industrial Association. The early unions all failed. In 1919, another group formed the Brotherhood of Sleeping Car Porters Protective Association in New York.
In the summer of 1925, a small group of Pullman porters persuaded Harlem socialist A. Philip Randolph to lead the Brotherhood of Sleeping Car Porters (BSCP), another attempt to organize porters nationwide.
Boyd quit the company union in September. In January 1926, despite warnings from his boss, Boyd held open BSCP organizing meetings in St. Paul. It is most likely Boyd knew he had been fired from his job, anyway; he never found stable work again.
Union achievements came slowly. The BSCP battled Pullman and lobbied Congress for a decade before gaining recognition in 1935.
In later years, Boyd moved to Los Angeles, and ultimately died there in 1962. A. Philip Randolph referred to Boyd as a black revolutionist.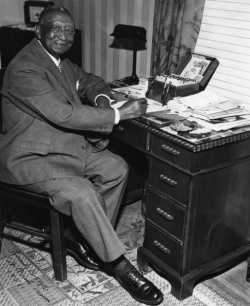 sources:
https://www.stpaul.gov/departments/parks-recreation/natural-resources/arts-gardens/public-art/frank-boyd
http://www.mnopedia.org/person/boyd-frank-1881-1962