Opera singer Mattiwilda Dobbs was able to cross color barriers with her vocal gifts and exceptional music skills. Dobbs was one of the first Black singers to be internationally renowned in operan. She was the first African American to sing at La Scala in Milan, Italy, the first black woman offered a long-term contract by the Metropolitan Opera Company in New York, and the first Black singer to be cast in a leading role at the San Francisco Opera.
Dobbs was born on July 11, 1925, and was the fifth of six daughters born to John Wesley Dobbs and Irene Ophelia Thompson. Her parents were well-known leaders in the African American community in the Atlanta Auburn Avenue area. As a young girl, Dobbs sang in community and church choirs.
After graduating high school, she attended Spelman College, where she studied voice. Dobbs later studied with Lotte Leonard and won a Marian Anderson Award, among other scholarships, and a John Hay Whitney Fellowship, which enabled her to study in Europe. Winning the International Music Competition in Geneva, Switzerland, in 1951, opened up the doors for Dobbs to perform in major festivals and opera houses throughout Europe, including La Scala in 1953.
Dobbs lived in Spain with her first husband, who died of a liver ailment; she later remarried Bengt Janzon. Dobbs often refused to perform for segregated audiences. In 1974, after retiring from the stage, Dobbs began a teaching career at the University of Texas, where she was the first African-American artist on the faculty. In 1979, Dobbs was honored with a doctorate by Spelman.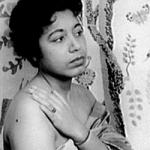 source:
Trap, Diane. "Mattiwilda Dobbs (b. 1925)." New Georgia Encyclopedia. 14 November 2013. Web. 13 January 2016.