General Daniel "Chappie" James learned to fly while attending the Tuskegee Institute. After graduation in 1943, he continued civilian flight training until he received an appointment as a Cadet in the Army Air Corps.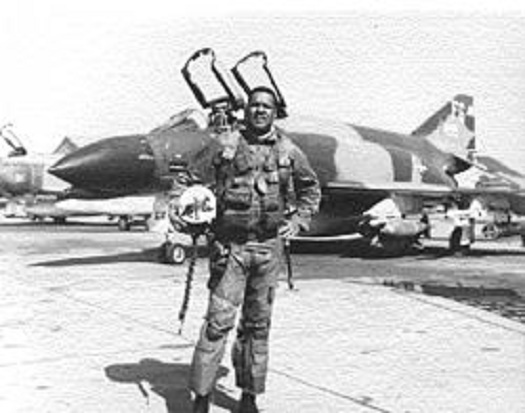 Daniel James, Jr. was born on February 11, 1920, in Pensacola, Florida. He graduated from high school in 1937 and enrolled at the Tuskegee Institute.
While in college, James became interested in flying. He was able to become a pilot through the Civilian Pilot Training Program. After completing the program, he stayed on as an instructor. Facing many obstacles, including the racial prejudices of the times, James fought for a place at military flight school. Passing the required tests with ease, he completed his training in 1943.
It was during the Korean War that James began flying combat missions, more than 100 in all. For these achievements, he received the Distinguished Service Medal. James also served in the Vietnam War and flew more than 75 missions during that conflict. In 1970, he became the assistant deputy secretary of defense in the area of public affairs.
James was widely known for his speeches on Americanism and patriotism, for which he was editorialized in numerous national and international publications. He was awarded the George Washington Freedom Foundation Medal in both 1967 and 1968. In 1970, he received the Arnold Air Society Eugene M. Zuckert Award for outstanding contributions to Air Force professionalism. His citation read "… fighter pilot with a magnificent record, public speaker, and eloquent spokesman for the American Dream we so rarely achieve."
Daniel James, Jr. retired in 1978. He died on February 25 of that same year, in Colorado Springs, Colorado.
source:
http://www.arlingtoncemetery.net/djames.htm
http://www.biography.com/people/daniel-james-jr-9352497#!