Leslie Garland Bolling carved wooden figures that drew national attention in the first half of the twentieth century. The son of a Surry County blacksmith, Bolling attended Hampton Normal and Agricultural Institute and graduated from Virginia Union University. He worked in Richmond as a porter, letter carrier, and utility tradesman to make a living. With pocket knives and a scroll saw, Bolling carved sculptures out of poplar wood in his spare time. Most were single human figures between a foot and two feet tall.
After a group exhibition at the Richmond Young Women's Christian Association, a Richmonder introduced Bolling to the New York art critic Carl Van Vechten, who became one of the artist's supporters. In 1933, the self-taught carver won an award at an exhibition in Washington, D.C., sponsored by the Harmon Foundation, which supported African American art. Later that year he showed four more sculptures at Howard University. Bolling usually depicted African Americans at work or leisure. Among his better-known works was the Days of the Week series of seven figures, which showed black people in their day-to-day lives. In January 1935, Bolling earned the distinction of being the first African American in Virginia to have a one-man exhibition, at the Richmond Academy of Arts.
In June 1937, the William D. Cox Gallery in New York presented a one-man show of seventeen of Bolling's works, including the completed Days of the Week series. Bolling worked with Richmond leaders to establish the Craig House Art Center, a Works Progress Administration project that opened in 1938 to teach art and its appreciation to African Americans. Bolling taught woodcarving and exhibited some of his sculptures there before the center closed in 1941. Bolling showed a few more pieces, but he had likely stopped carving by the time he died in 1955. Scholars have documented more than eighty of his sculptures, but the whereabouts of fewer than half now are known. Bolling's work can be found at Yale University, the Virginia Museum of Fine Arts, and the Valentine Richmond History Center. Bolling died in New York on September 27, 1955.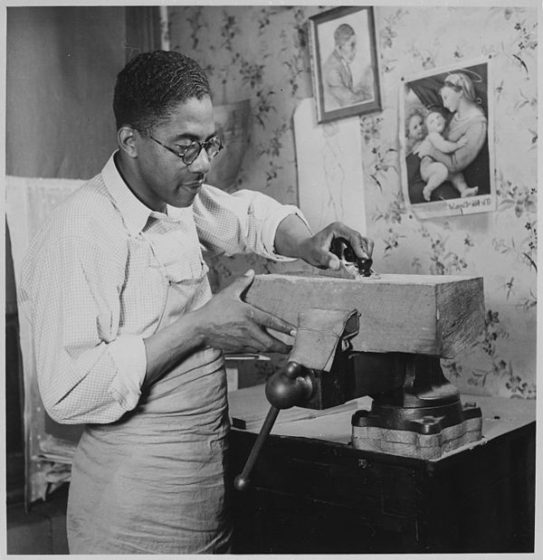 sources:
http://www.lva.virginia.gov/exhibits/bolling/index.asp
https://en.wikipedia.org/wiki/Leslie_Garland_Bolling