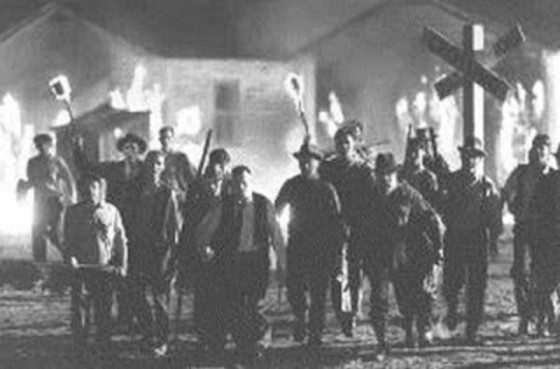 Edward Coy was a thirty-two-year-old African-American man, who was burned at the stake in Texarkana (Miller County) before a crowd of approximately 1,000 people.
Journalist Ida B. Wells, and prominent anti-lynching crusader from Memphis, Tennessee, described Cody's murder as one of the most shocking and repulsive in the history of lynching.
Coy, described by the media as "mulatto," was charged with a crime from which the laws provide adequate punishment. He was charged with assaulting Mrs. Julia Henry Jewell, a white woman. A mob pronounced him guilty, strapped him to a tree, chipped the flesh from his body, poured coal oil over him, and then set on fire.
At that time, the New York Times reported, Jewell was attacked and raped by a "negro" who visited her house to sell hogs to her husband. The man, allegedly attacked her when her husband left home and went out of town. Mobs scoured Texarkana and searched for the suspect. Two black men were apprehended, but those two were declared innocent by Julia Jewell.
During the search, it was learned that the suspect being sought was named Ed Coy. It was believed that Coy had fled "northwards towards Little River County, Arkansas." Another suspect was arrested and brought before Jewell, who "pronounced him not the man, although the hat and clothes he wore looked exactly like those of her assailant." The prisoner explained the clothing by saying that "he and Coy had been together on Sunday and Monday and at the latter's request they had swapped clothes. Coy said that they were after him for some minor offense."
The next morning, a farmer, W. B. Scott, who lived just five miles outside of Texarkana, found Ed Coy and held him until a posse, headed by Noah Sanderson, arrived and took possession of Coy. The posse, consisting of about fifty mounted guards, "attended the prisoner to town, arriving…about 9 o'clock." Jewell identified Coy as the man who attacked her.
By 2:00 p.m., a decision had been made to hang Coy. A crowd of 1,000 marched Coy to the Iron Mountain roundhouse.  The crowd cried, "BURN HIM! BURN HIM!" Julia Jewell was given a torch. She looked at Coy, looked at the torch, and seemed to falter until a person in the crowd yelled, "Burn him!" She applied the torch, and the crowd watched Coy burn alive.
Coy contended, right up until his death, that he and Jewell were lovers by "mutual desire and consent." As she applied the torch to his oil-soaked body, he turned to her and asked how she could burn him after they had "been sweethearts" so long.
sources:
http://www.blackpast.org/1899-reverend-d-graham-some-facts-about-southern-lynchings
http://www.encyclopediaofarkansas.net/encyclopedia/entry-detail.aspx?entryID=7035