Nathaniel "Magnificent" Montague was an American R&B disc jockey who not only help promote soul music records on KGFJ Los Angeles and WWRL New York City but also whose trademark catch-phrase, "Burn, baby! Burn!" became the rallying cry of the 1965 Watts riots. Following criticism that his trademark phrase had inadvertently stirred up rioters, Montague advocated non-violence and urged young listeners to pursue their educations, coining the new phrase "Learn, baby! Learn!"
Montague was born in New Jersey on January 11, 1928. As a young boy, he ran off to Los Angeles several times. In 1942, with his close friend Tony Williams (later of The Platters), he joined the Merchant Marine, making numerous convoy journeys supplying the Allies during WWII.
As a young black disc jockey working in a still segregated nation, Montague was once thrown out of a toilet by police at a railway station in Washington D.C. minutes after his arrival. On one terrifying occasion, his station manager in Houston called him from his booth to introduce him to the assembled dignitaries of the local Ku Klux Klan who complained:
"By God, you've been makin' love to white ladies, boy!", referring to the huge number of female callers to his show. Only thanks to the quick intervention of another, large-built white DJ called J.P. Richardson were tensions lowered, as he put his arm jovially around Montague's small shoulder and joked, "All Negroes seem to have that touch, I try to get it myself. That's why I try to be of help!"
Later in life, Montague spent more than 50 of 84 years chasing history. He collected slave documents, photographs, signatures, and recordings. His collection was amassed at 8,000 pieces. The value of it was in the millions but to some, it was referred to as being priceless. It was estimated that just five of the pieces were somewhere between $500 to 900 thousand dollars.
For decades Montague carted the collection of African-American artwork, artifacts and ephemera around the country with his family as he took jobs at radio stations in New York, Chicago, Oakland, and Los Angeles, and then finally to Las Vegas, where he moved 12 years ago after closing a station he built from the ground up in Palm Springs, California.
Over the years he was not able to maintain the collection and found himself in financial hardship. His collection was seized and put in the hands of a trusteeship that was charged with selling it to satisfy Montague's debt. For more than 50 years he memorized names of writers, artists, and filmmakers hunted them, found them, and added their works to his collection. The collection, described by one curator as "greater than any public collection of its type" and as a "reference library" of black history.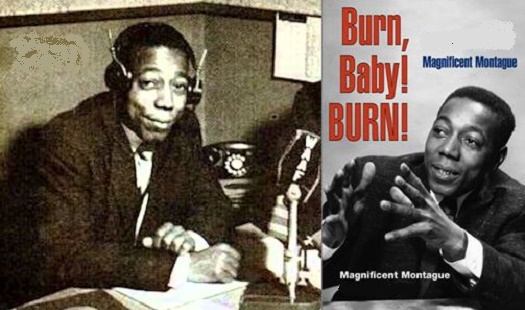 Sources:
http://www.cnn.com/2012/05/08/us/montague-collection-auction/index.html
https://www.amazon.com/Burn-Baby-BURN-Autobiography-Magnificent/dp/0252076842