"Freedom," the statue on top of the dome of the U.S. Capitol, was finished and permanently put in place in 1863. The statue depicts a female figure wearing a military helmet, holding a sheathed sword in her right hand and a laurel wreath and shield in her left. The man responsible for putting the architectural feat in place was Phillip Reid, a black slave.
Reid was a slave at the Bladensburg, Maryland, Foundry when he supervised the bronze casting of the statue. As a child, Reid learned to work with clay and wood from an older slave on a plantation in South Carolina.
Thomas Crawford completed the full-size plaster model of "Freedom" at his studio in Rome, Italy. In April 1858, the model left Rome in six crates on the ship Emily Taylor. While traveling, the ship had a leak and had to stop in Bermuda. Freedom was then transferred to another ship for the trip to the Mills Foundry.
The federal government gave Mills Foundry a contract to cast the plaster model in bronze in 1860. However, in the middle of the casting, the foundry foremen went on strike seeking higher pay; they believed they were the only ones qualified to do the job. It was then that Clark Mills, the owner of the Foundry, asked Reid, who had been working alongside the foremen, to see the project through and complete the final casting.
Reid supervised the remaining casting of the statue in five sections, each weighing over a ton. The sections of Freedom were moved by wagons from Bladensburg, Maryland, to Washington, D.C.
Reid and other slaves put the Statue of Freedom together on the grounds of the Capitol in a month during the spring of 1863. Reid was a free man when the last piece of the Statue of Freedom was put into place atop the Capitol Dome on December 2, 1863.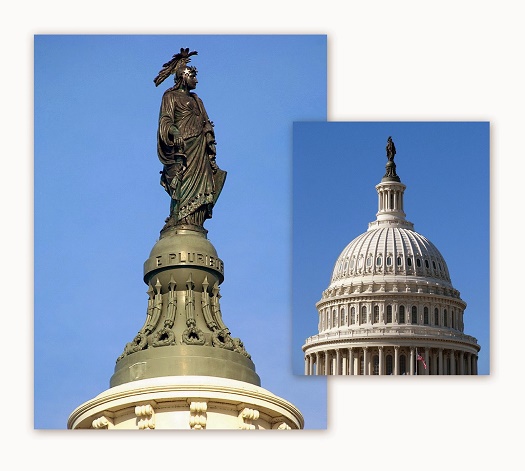 source:
https://www.aoc.gov/philip-reid-and-statue-freedom