Dr. Homer E. Harris Jr. was a dermatologist and sports legend. He was born on March 4, 1916, to Mattie Vineyard Harris and Homer E. Harris Sr., from Gastonia, North Carolina.
As a young boy, Harris enjoyed playing sports in the park after school. He was also on a swim team at Madison Park Beach. He attended Stevens Elementary School and Garfield High School, where he became the first black captain of the football team in 1933.
He passed up the University of Washington because of racist attitudes toward black athletes, he chose to attend the University of Iowa on a sports scholarship. In 1937, he became the first African-American player to captain a Big Ten team and was voted Most Valuable Player the same year. Harris wanted to play professional football after he graduated from the University of Iowa, but black players were banned from the National Football League. Instead, he headed to A and T College in Greensboro, North Carolina, to coach football.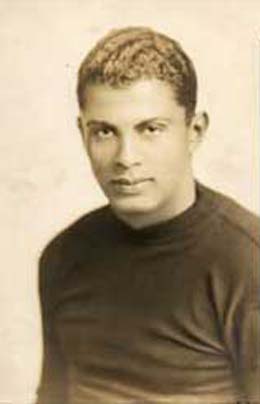 His mother's dream was for him to become a physician and with her encouragement, he later entered Meharry Medical College in Nashville, Tennessee. After receiving his medical degree, he interned in Kansas City, Missouri, then trained in dermatology at the University of Illinois in Chicago and with Dr. T. K. Lawless.
Harris opened up his own practice in 1955 in Seattle. He decided become a dermatologist because he didn't have to rely on other doctors or hospitals for referrals.
After initial difficulty renting office space in the Medical Dental Building, Harris built up his practice, which was one of the largest west of the Rockies. Harris received an award in 1989 from the Black Heritage Society for being a black pioneer in dermatology. He retired from practicing medicine after 43 years.
Washington State declared November 13, 2002, to be Dr. Homer Harris Day, and the Seattle Parks Foundation announced that an anonymous donor contributed $1.3 million to build a park in Seattle's Central Area in Harris' honor. The University of Iowa inducted Harris into their Hall of Fame in August 2002, and the Pacific Northwest chapter of the African American Sports Hall of Fame followed suit in 2003. Dr. Homer E. Harris died in 2007 at the age of 90.
sources:
http://www.blackpast.org/aaw/harris-jr-dr-homer-e-1916-2007
Little Known Black History Fact: Dr. Homer Harris, Jr.