Mamie Smith was the first African American female to record blues songs in 1920 with her version of Perry Bradford's "Crazy Blues," and "It's Right Here for You," on Okeh Records. Smith's record went on to sell over a million copies in less than a year. Records made by African Americans during this time were referred to as "race records;" when producers discovered there was money to be made, they set their eyes on talented black singers and musicians.
Very little is known about Smith's younger years. She was born on March 26, 1883. Smith got her start as a dancer at age of ten in the vaudeville act The Four Dancing Mitchells. She later toured with the group as part of the Salem Tutt Whitney and Homer Tutt's show, "The Smart Set."
Smith eventually moved to New York in 1913 with "The Smart Set" and later decided to quit the show. She began performing as a singer in Harlem at venues such as Baron Wilkin's Little Savoy Club, Leroy's, Edmunds, and Banks' Place. Her first recordings were made in early 1920s.
Because of the success of Crazy Blues, many opportunities opened up for African Americans singers and entertainers. Apparently, Smith didn't really think of herself as being much of a Blues singer. She was more of a vaudeville performer, although she included Blues and Jazz numbers as part of her act.
In the 1930s and 1940s, Smith continued to lead a successful singing and recording career. She appeared in several films and set the scene for many female blues singers to follow in her footsteps. Smith died in 1946.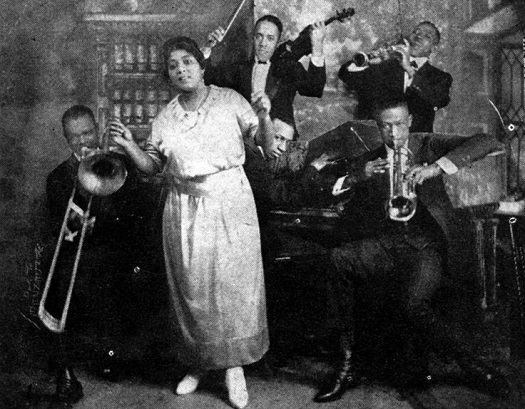 source:
http://www.encyclopedia.com/topic/Mamie_Smith.aspx