Mantan Moreland was an American actor and comedian best-known for his work during the 1930s and 1940s. Moreland was born in Monroe, Louisiana, to Frank, an old-time Dixie band leader, and Marcella Moreland.
By the time Moreland was an adolescent, he ran away from home to perform in circuses and traveling medicine shows. He worked his way onto the vaudeville stage and appeared with international touring companies before becoming a regular in the Broadway musical revues of the late 1920s and early '30s.
His film career started with appearances in low-budget "race movies," which were aimed at African-American audiences. However, as Moreland's comedic talents came to be recognized, he received roles in larger productions. Perhaps the best example of Moreland rising above his straight-jacketed screen persona came in Monogram's 1941 horror outing, "King of the Zombies."
Monogram Pictures signed Moreland to appear opposite Frankie Darro in the studio's popular action movies. Noted for his bulging eyes and cackling laugh, Moreland was also well-known for his role as chauffeur Birmingham Brown in Monogram's "Charlie Chan" series.
Moreland's last featured role was in 1968 darkly humorous horror film, "Spider Baby," which was patterned after Universal's thrillers of the 1940s. After suffering a stroke in the early 1960s, Moreland took on a few minor comedic roles, working with the likes of Bill Cosby, Moms Mabley, and Carl Reiner. Moreland died in 1973 in Hollywood.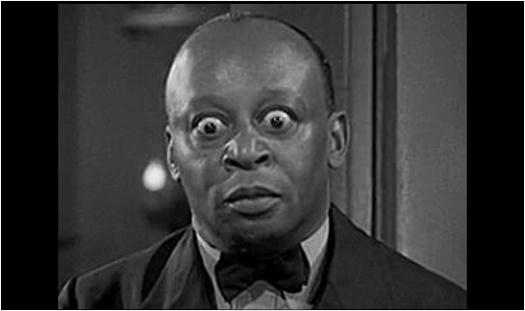 sources:
http://www.black-face.com/Mantan-Moreland.htm
http://the3stooges.wikia.com/wiki/Mantan_Moreland