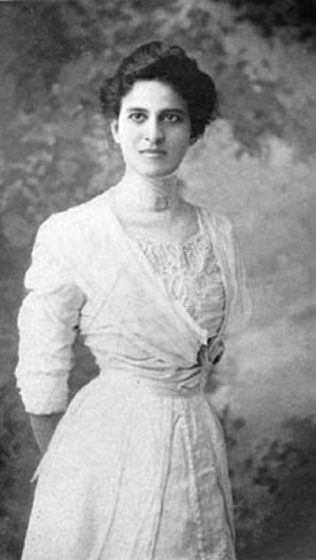 Maud Cuney Hare was an American pianist, musicologist, writer, and African-American activist in Boston, Massachusetts in the United States.
Hare was born in Galveston, the daughter of famed civil rights leader Norris Wright Cuney, who led the Texas Republican Party during and after the Reconstruction Era, and his wife Adelina, a schoolteacher. In 1913, Cuney-Hare published a biography of her father.
After completing school at Galveston's Central High School in 1890, Cuney went to Boston to study at the New England Conservatory of Music. There she studied piano with Edwin Klahre and music theory with Martin Roeder. She also studied at Harvard's Lowell Institute of Literature.
When white students learned that Cuney and another African American, Florida L. Des Verney, were living in a campus dormitory, some of them tried to have the young women excluded. Fearing financial pressure from white southern families, the Conservatory requested that the women find other lodgings, implying that their safety could not be guaranteed. Cuney told the school that she refused to move. Her father also refused to move her, criticizing the school for dishonoring "the noble men and women" abolitionists of Massachusetts who had fought against prejudice. Members of the Boston black community spoke out against the Conservatory, as did black students, including Harvard Cambridge student W.E.B. Du Bois. The Colored National League took up the issue, and the Conservatory eventually reversed its position. Though Des Verney moved away, Cuney stayed.
After graduating from the conservatory, Cuney returned to Texas, studying privately with pianist Emil Ludwig[2]:xx in Austin. She taught at the Texas Deaf, Dumb, and Blind Institute for Colored Youths in 1897 and 1898. She chose to oppose racial prejudice when management of the Austin Opera House demanded that Negroes in the audience coming to her performance must be segregated and seated in the balconies.
Cuney Hare did extensive research as a musicologist. She traveled to Mexico, Cuba, the Virgin Islands, and Puerto Rico to collect and study folklore and musical traditions. She was "the first music scholar to direct public attention to Creole music," publishing a collection of Six Creole Folk-songs with commentary in 1921.
source:
https://en.wikipedia.org/wiki/Maud_Cuney_Hare