The first free African settlement in the United States was founded in 1738. Called Gracia Real de Santa Teresa de Mose or Fort Mose, it was founded by the Governor of Colonial Spanish Florida, Manuel Montiano.
The settlement happened more than a century before the Emancipation Proclamation. Slaves from British colonies followed the original Underground Railroad, which headed not north but to the south, to the Spanish colony of Florida.  In 1693, the Spanish Crown officially proclaimed that runaways would find freedom in Florida. When the slaves arrived, they were given their freedom only if they declared their allegiance to the King of Spain and joined the Catholic Church. There were over 100 Africans who called Fort Mose home and more than twenty households formed. The small village was designed with a wall around it, homes, church, and an earthen fort.
Fort Mose was the northern defense of St. Augustine, the nation's oldest city. St. Augustine, Florida, was founded in 1565 by Don Pedro Menéndez de Avilés. Because Africans were skilled at cattle ranching, carpentry, and blacksmithing, they made important contributions to St. Augustine. After East Florida was ceded to the British in the Peace of Paris of 1763, most of the free black inhabitants migrated to Cuba.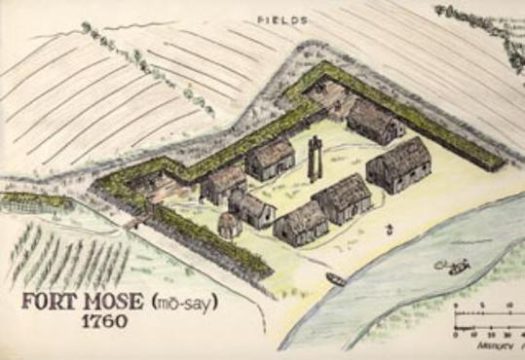 sources:
http://www.fortmose.org/
https://en.wikipedia.org/wiki/Fort_Mose_Historic_State_Park