BY WALTER OPINDE
Despite being enslaved from Africa, Phillis Wheatley became the first slave, the first African-American, and the third female in the United States to ever publish a poetry book.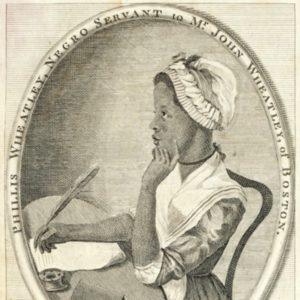 Phillis Wheatley was born in 1753 in Senegal/Gambia (West Africa). Having been kidnapped in 1761, at the age of about 8 years, Phillis was transported aboard a slave ship to New England, where she would then be purchased by John Wheatley (of Boston, United States) as a surprise gift to serve as a servant to his wife.
Even though Phillis was brought into the family as a household slave, the Wheatleys took a great interest in educating her. Therefore, through the support from the Wheatley's family, Phillis learned how to read the Bible, thereby becoming fluent in both written and spoken English at the age of 10. At this early age, Phillis was already familiar with the Bible, as well as languages such as Greek and Latin.
At thirteen years of age, Phillis Wheatley (her newly acquired family name) began writing poetry, modelling and perfecting her poems with reference to the great English poets of the time- Thomas Gray, Alexander Pope, and John Milton. Phillis published her first poem in 1767, and by 1773, her first volume of verse "Poems on Various Subject, Religious and Moral" was already out in the public domain.
The "Poems of Various Subject" was a landmark achievement in the poetry works in the entire U.S. history. Upon this publication, Wheatley automatically became the first African-American and the first slave in history to publish a book of poems, and also the third American female to do so.
Wheatley's poem "On the Death of the Reverend Mr. George Whitefield" was published broadly in the cities in New York, and in Philadelphia and Boston. This publication earned Wheatley a national acclamation in the U.S. and broadly in other great nations of the time. The poem was first printed in London, and over the subsequent years, she printed several broadsides, which captured the attention of prominent English leaders and other colonial leaders.
Wheatley would later travel to London to promote her poems, an event that coincided with her treatment for certain health ailments that she had been battling. Upon her return to Boston, Wheatley's life significantly changed since despite being freed from the slavery, she remained devastated by the sequential deaths of a number of the Wheatley's family members, including John and Susanna in 1778 and 1774 respectively.
After the deaths of the Wheatleys, Phillis got married in 1778 to another freed slave in Boston, Peters John, with whom they bore three children, all of whom died in their infancy. The marriage was marred with struggles and battles of constant poverty; the events which prompted Phillis to seek for a job as a house helper despite her horrifying conditions.
On 5th December, 1784, Wheatley Phillis died at her early 30s (31 years old, to be precise), leaving behind a legacy as the most famous African-American poet on the globe of the 18th century.
"Read more of the story from: https://www.poetryfoundation.org/poems-and-poets/poets/detail/phillis-wheatley"
Sources
Robinson, William Henry (1984). Phillis Wheatley and Her Writings. New York: Garland.
Abcarian, Richard and Marvin Klotz (2006). "Phillis Wheatley," In Literature: The Human Experience, 9th edition. New York: Bedford/St. Martin's.