BY WALTER OPINDE 
On this day, May 25, 1919, the first female African-American, millionaire, entrepreneur, philanthropist, and civil rights activist, Madam C. J. Walker, died of kidney failure and hypertension complications at the age of 51 years. At the time of Walker's death, she was the wealthiest African-American female in the entire America. Her net worth was estimated be approximately $600,000 (currently about $8 million).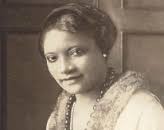 Nearly a century later, Madam Walker's legacy still prevails through two properties enlisted on the National Registry of Historic Places. These are the Madame Walker Theatre Center- Indianapolis and the Villa Lewaso in Irvington- New York.
Madam Walker was born on 23rd December 1867, with her birth name as 'Sarah Breedlove.' This was merely two years after the abolition of slavery in America on 18th December 1865. Walker grew to be a prominent American female entrepreneur; thereby entering the historical records as the first female millionaire.
Madam is historically remembered as a prominent African-American philanthropist, entrepreneur, as well as a social and political activist. She became the first female self-made American millionaire and the wealthiest Black American nationwide. Walker is eulogized as one of the most successful African-American business owners, and the world's most successful female entrepreneur of her time.
The dawn of Walker's self-made fortune knocked when she started developing and marketing a chain of hair and beauty products for the African-American women through the Madam C. J. Walker Beauty Product Manufacturing Company. This is a successful business established by Sarah Breedlove in 1910 and still operates within the U.S. and roams the American beauty and cosmetics industry.
Madam Walker was also prominently known for her activism and philanthropy; she made several monetary donations to many organizations, thereby becoming the pioneer of this art. Evidently, Walker's lavish estate- Villa Lewaro, in Irvington-Hudson, New York, for a long time, served as a social gathering place for the African-Americans. Moreover, Walker philanthropically donated the funds that were used in establishing the YMCA (Youth Men's Christian Association) branch for the Indianapolis' Black Community.
As Sarah's notoriety, prominence, and wealth increased, she grew to be more vocal in her views, and in 1912, she addressed an annual NNBL (National Negro Business League) gathering from the convention floor where she made her views and experience public.
After relocating from Indianapolis to New York in 1916, Madam Walker's involvement in politics became more conspicuous as she delivered lectures on political issues of pertinence, alongside other matters of economic and social concerns. These lectures were majorly delivered during the conventions organized and sponsored by some of the most powerful Black institutions.
Worthy to mention, Walkers profits from her business also essentially influenced her political contributions and philanthropic interests. Before her death in 1919, Madam Walker had pledged $5,000 (equal to approximately $65,000 by 2012) funding to the NAACP's anti-lynching activities; NAACP is an acronym for National Association for the Advancement of Colored People.
Read more of the original story via: http://www.history.com/topics/black-history/madame-c-j-walker
Sources
Colman, Penny (1994). Madam C. J. Walker: Building a Business Empire. Gateway Biography. Brookfield, CT: The Millbrook Press. 
Bundles, A'Lelia Perry (2008). Madam C. J. Walker: Entrepreneur. Black Americans of Achievement (Legacy Ed.). New York, NY: Chelsea House.
Bundles, A'Lelia Perry (2013). Madam Walker Theatre Center: An Indianapolis Treasure. Images of America. Charleston, SC: Arcadia Publishing.