Milton "Mel" Stewart was an actor, television director, and musician who appeared in several films and television shows from the 1960s through the 1990s.
Stewart was born on September 9, 1929, in Cleveland, Ohio, as Milton Stewart. He is best known for playing Henry Jefferson on the popular television series "All in the Family" and for playing section chief Billy Melrose on the television series "Scarecrow and Mrs. King."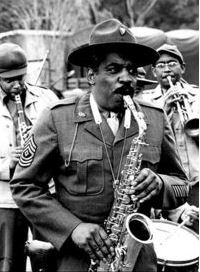 Stewart began his acting career in the 1950s, appearing in small TV and film roles. In the 1960s, Stewart also appeared in the Broadway shows "Purlie Victorious," "The Hostage," and "Simply Heavenly."
Stewart's early career also included notable work as a voice actor. Stewart went on to land roles in various other television series, including "The Bob Newhart Show," "Good Times," and "All in the Family." Stewart also directed two episodes of short-lived series "Get Christie Love!" then co-starred in "On the Rocks."
In addition to acting and directing, Stewart was an accomplished jazz saxophonist. As a longtime resident of San Francisco, he taught acting at San Francisco State University. His students included actor Danny Glover.
Stewart established the theater group Black Actors Now Through Unity (BANTU) and directed plays at the Center for African and African-American Art and Culture in San Francisco and the Black Repertory Theater in Berkeley, California. Milton Stewart died in 2002.
source:
http://www.aaregistry.org/historic_events/view/mel-stewart-actor-and-teacher