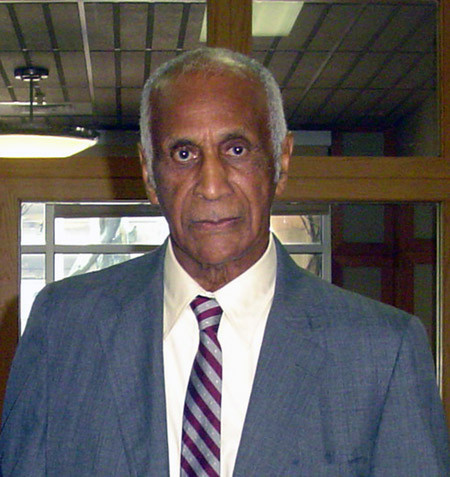 Milton Pitts Crenchaw was the only civilian flight instructor (of the first class) for the Tuskegee Airmen. He was the first Arkansas African American to be called a Tuskegee Airman.
Crenchaw was born on January 13, 1919, in Little Rock, Arkansas to Ethel Pitts Crenchaw, a beautician, and Reverend Joseph C. Crenchaw. Crenchaw studied auto mechanics at Dunbar Junior College and in 1939 enrolled in the mechanical engineering program at Tuskegee Institute in 1939. He was in the school's pilot training program and did not continue his studies after earning his pilot's license.
After the bombing of Pearl Harbor on December 7, 1941, his focus shifted from living the life of a normal college student to flying in the Civilian Pilot Training Program, sponsored by the Army Air Corps, and becoming a flight instructor. This was possible due to the landmark government decision of December 1940 regarding the training and inclusion of black pilots in the army. This idea was first initiated by President Franklin Delano Roosevelt and then revisited by the Department of War in response to the shortage of personnel in the aviation, pilot, and engineering sectors of government
Crenchaw became a primary civilian flight instructor and eventually one of the two original supervising squadron commanders under Chief Pilot Charles A. Anderson. He and Charles Foxx were the first instructors for the first group of student pilot trainees between 1941 and 1946.
In 1972, with over 10,000 hours on record logged in the air, Crenchaw was signed on as an equal employment opportunity officer with the
Department of Defense and as a race relations officer at Fort Stewart in Georgia until 1983. Crenchaw was inducted into the Arkansas Aviation Hall of Fame in 1998. On March 27, 2007, he was honored by Governor Mike Beebe for his historic efforts as a Tuskegee flight instructor and service to his country. He died on November 17, 2015, in Atlanta, Georgia.
source:
http://ualrpublicradio.org/post/one-last-original-tuskegee-airmen-instructors-dies-96#stream/0
http://www.encyclopediaofarkansas.net/encyclopedia/entry-detail.aspx?entryID=4925