The Philadelphia race riot of 1964 began on the evening of August 28, after a black woman named Odessa Bradford got into an argument with two police officers.
Bradford had stopped the car while arguing with her boyfriend, refusing to move out of the intersection at 23rd Street and Columbia Avenue. The officers tried to physically remove Bradford from the car. As the argument went on, a large crowd assembled in the area. A man tried to come to Bradford's aid by attacking the police officers at the scene, which led to the arrest of both himself and Bradford.
Rumors quickly spread throughout North Philadelphia that a pregnant black woman had been beaten to death by white police officers. Later that evening, and throughout the next two days, angry mobs looted and burned mostly white-owned businesses in North Philadelphia, mainly along Columbia Avenue. Outnumbered, the police response was to withdraw from the area rather than aggressively confront the rioters.
[embedyt] https://www.youtube.com/watch?v=BaIFa6F8Z9o[/embedyt]
There were no fatalities during the rioting. However, 341 people were injured, 774 people were arrested, and 225 stores were damaged or destroyed in the three days of rioting.
Some of the tension was attributable to religion, with Black Muslims and Black nationalists pitted against Black Baptist ministers who called for peace in the city. Business activity in North Philadelphia declined even further after the riots, as many of the affected stores never re-opened for business.
The riots also helped to facilitate the political rise to power of Frank Rizzo, who favored more punitive approaches to crime.
In 1987, Columbia Avenue between Front and 33rd Streets was renamed Cecil B. Moore Avenue after the influential and often controversial Civil Rights leader. Moore has been regarded as a pacifying figure who helped quell the rioting.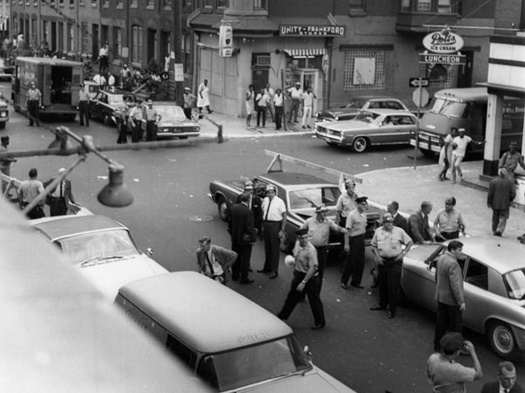 source:
http://www.philly.com/philly/blogs/TODAY-IN-PHILADELPHIA-HISTORY/The-Philadelphia-race-riot-of-August-1964.html