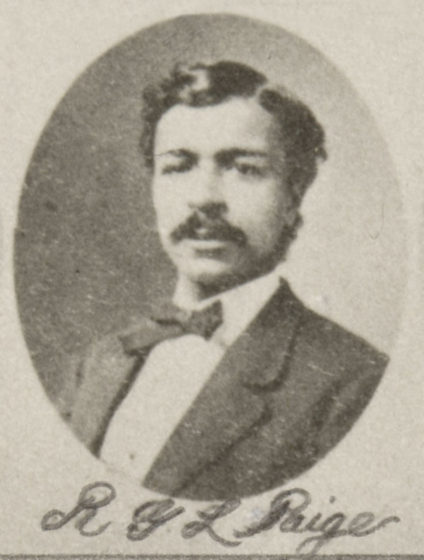 R. G. L. Paige was a Republican member of the House of Delegates (1871–1875, 1879–1882) and possibly the first African American lawyer in Norfolk and one of the first in Virginia.
Born into slavery in the city of Norfolk, Paige escaped to Philadelphia about 1857 and eventually settled in Boston. After the American Civil War (1861–1865) and the abolition of slavery, he returned to Norfolk. There he purchased the local African American burial ground (later Mount Olive Cemetery) and in 1871 won election to the House of Delegates. In the General Assembly Paige lobbied for civil rights, served as a delegate to the Republican National Convention, and won a patronage appointment as an assistant clerk at the Norfolk customs house.
In July 1873 Paige was elected president of the party's state convention. His talent and party work earned him a patronage appointment on June 1, 1874, as an assistant clerk at the customs house in Norfolk, where he worked for several years and rose to clerk and inspector.
Paige won election to the House of Delegates again in 1879, receiving a majority of the votes in a three-man race. In 1880 he delivered a speech against lynching that was widely reprinted, but no legislation resulted. That same year he threatened to, but in the end did not, sue a Richmond theater company that refused to seat him. Paige died of peritonitis at his home in Berkley on either September 21, 1904.
source:
https://www.encyclopediavirginia.org/Paige_R_G_L_1846-1904