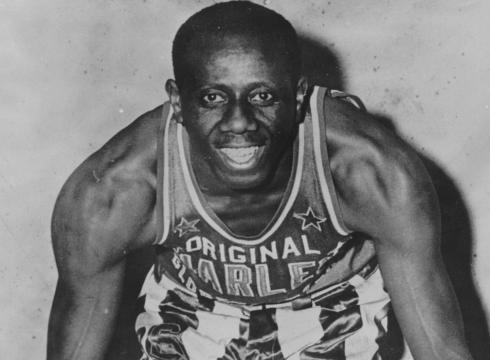 Reece "Goose" Tatum was an American multi-sport athlete who played Negro League Baseball before becoming a star basketball player with the Harlem Globetrotters. Tatum was considered to be the original "clown prince" a term that was first applied to seminal Chicago Crusader/Philadelphia Giant Jackie Bethards in 1933 of the Trotters.
Tatum was born on May 3 or 31, 1921, in El Dorado (Union County) or Hermitage (Bradley County) in Arkansas—sources differ on his birth date and birthplace. His father, Ben, was a part-time preacher and part-time farmer who also worked at the local sawmill, while his mother, Alice, raised their seven children, of whom Reece was the fifth, and also served as a domestic cook. He attended Booker T. Washington High School but may not have graduated, since he was employed at the sawmill and played baseball while still in his teens.
His natural athletic ability and sense of comic timing made him a natural fit for the Globetrotters. He played with the Globetrotters for the 1941 and 1942 seasons, and then he was drafted into the U.S. Army Air Corps during World War II. He served at Lincoln Army Airfield in Nebraska, largely as an entertainer for the troops. After the war, he returned to play with the Globetrotters for another ten years. Tatum is credited with many inventive basketball moves, such as the hook shot, and he frequently scored more than fifty points in a game. Some of his routines were based on his stature at 6'4. It was reported that he could touch his kneecaps without even having to bend.
Tatum and Marques Haynes, who were both Harlem Globetrotters superstars, formed a barnstorming basketball team of their own: The Fabulous Harlem Magicians. Dempsey Hovland owner of 20th Century Booking Agency was recruited to book the Harlem Magicians' games. Hovland earlier had managed the barnstorming House of David basketball team. Dempsey Hovland was also the creator and owner of The World Famous Texas Cowgirls Basketball Team.
After the loss of his son, Goose Jr., in an automobile accident, Tatum began drinking heavily which led to several hospital visits. Tatum died in his home on January 18, 1967, of an apparent heart attack at the age of 45.
sources:
http://www.hoophall.com/hall-of-famers/tag/reece-goose-tatum
http://www.harlemglobetrotters.com/harlem-globetrotter-legend/reece-goose-tatum