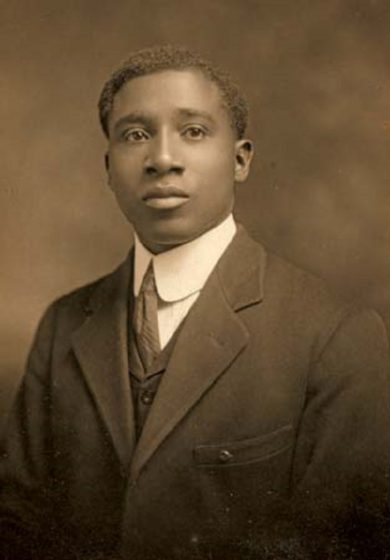 Robert Nathaniel Dett is a composer, conductor, and pianist. He was among the first Black composers during the early years of the American Society of Composers, Authors, and Publishers (ASCAP). His works often appeared among the programs of Will Marion Cook's New York Syncopated Orchestra. Dett performed at Carnegie Hall and at the Boston Symphony Hall as a pianist and choir director.
Dett was born in Drummondville, Ontario  (which is now part of  Niagara Falls, Ontario) on October 11, 1882. He studied piano at an early age, showing initial interest when he was three years old and started piano lessons at the age of five. He was the son of Charlotte Washington Dett and Robert T. Dett; his mother was a native of Drummondville and his father was from the United States. At about age 14, he began playing piano for his local church. He studied at the Oliver Willis Halstead Conservatory of Music from 1901 to 1903.
In 1907, he completed his first degree, a Bachelor of Music with a major in composition and piano. His education also included an MA from the Eastman School of Music and time at Harvard. After graduation, Dett started teaching at Tennessee's Lane College followed by a tenure at the Lincoln Institute in Jefferson City, Missouri. During this period, he wrote practical choral and piano pieces suitable for his students. The 1913 piece In the Bottoms contains one of his most played movements, "Dance Juba."
Dett became the first black director of music at the Hampton Institute in Virginia where he maintained the position from 1913 to 1932. During this near twenty-year period, he founded the Hampton Choral Union, Musical Arts Society, Hampton Institute Choir and School of Music. In 1912, he recorded five selections from Magnolia Suite for QRS piano rolls. These are believed to be the first commercial piano rolls ever made by a black pianist.
Many of Dett's compositions are still performed, most notably by the Nathaniel Dett Chorale, a professional chamber choir devoted to performing Afro-centric music. Robert Nathaniel Dett died on October 2, 1943, during a USO tour.
sources: