BY WALTER OPINDE
Let's join hands in wishing Brady a Happy Birthday, and may he celebrate and enjoy his new age; Brad is now a year older.
On this day,  June 2, 1972, famous comedian, singer, actor, and television personality, Wayne Brady was born.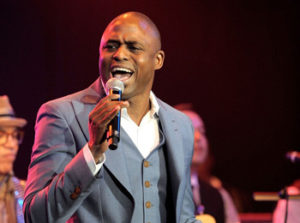 Brady is known for his work as a regular character on the American version of the improvisational comedy television series "Whose Line Is It Anyway?" As well, as the original host of Fox's "Don't Forget the Lyrics!," the host of the daytime talk show famously known as "The Wayne Brady Show," and has been hosting "Let's Make a Deal"  since its revival in 2009.
Brady has also participated in the performance in the Tony Award-winning musical "Kinky Boots" on the Broadway, with his stage name as Simon, and as a drag queen Lola between November 2015 and March 2016.
Brady was born in Columbus, Georgia, to West-Indian parents. He later moved to Orlando, Florida, at a young age to live with his aunt and grandmother. He commonly refers to his grandmother, Petersen Valerie, as his "mother" since she raised him. He is a second cousin to the prominent professional footballer, Altidore Jozy, who is currently a player at Toronto Football Club. At a teenage age of sixteen, he started performing in community theaters and at the Orlando improvisational troupe "SAK Comedy Lab," where he began developing his improvisational skills.
Brady attended Dr. Phillips High School in Orlando, thereby graduating in 1989. By 1990, he enrolled at the University of Miami and graduated two years later. Approximately two years after his university graduation, in 1996, he relocated to Los Angeles, where he continued developing his acting and artistic skills.
His career began as an improvisational theater performer, but in the original British version of "Whose Line Is It Anyway?" alongside Stile Ryan, Mochrie Colin, and the host- Anderson Clive. The last season was, in 1998 filmed in Hollywood. After that, Brady became a regular on the new American version, which was hosted by Carey Drew. This served as his first television exposure.
In 2003, Brady won a Primetime Emmy Award for "Outstanding Individual Performance" in a Variety, Musical or Comedy Series for his work on the show. He was the only person to win the award for a television series, as opposed to other specials, since 1993's Dana Carvey. He later went on to star his own ABC variety show in 2001, known as "The Wayne Brady Show," and a daytime talk show of the same name by 2002. This show lasted two seasons, winning four Daytime Emmy Awards, two of which went to Brady for Outstanding Talk Show Host. Brady Wayne later joined the Broadway revival of Chicago, in 2004, taking the role of "Lawyer Billy Flynn." He was also briefly featured in the final episode of the 2004 season of the Reno 911 Comedy.
Since then, Brady has been an active figure in the television, film, and comedy industries, winning several different awards for his outstanding performances.
Read more of his story and videos via: http://www.cbs.com/shows/lets_make_a_deal/cast/67166/