Singer, guitarist, songwriter, and a civil and human rights activist, Odetta Holmes was known for her renditions of American folk music, blues, jazz, and spirituals.
Born in Birmingham, Alabama, her family moved to Los Angeles when she was six years old. At the age of 13, she received operatic training and started playing the acoustic guitar at the age of 19. After high school, she attended Los Angeles City College and was employed as a domestic worker. Her mother had high hopes that she would follow in the footsteps of Marian Anderson, but Odetta was doubtful. She believed a large black girl would not be allowed to perform at the Metropolitan Opera.
Her first musical break came in 1944 as an ensemble member for the Hollywood Turnabout Puppet Theater. Years later, she joined the national touring company of the musical, "Finian's Rainbow." While on tour with Finian's Rainbow, Odetta "fell in with an enthusiastic group of young balladeers in San Francisco," and later decided to concentrate on folk singing. She made a name for herself by performing at various clubs in New York City and San Francisco.
In addition to performing, Odetta was very much involved in the civil rights movement. In 1961, Martin Luther King, Jr. anointed her "The Queen of American folk music." During the 1963 civil rights movement's March on Washington, she sang "O Freedom." Decades later, in January 2008, Odetta was the keynote speaker at the Martin Luther King, Jr. commemoration in San Diego.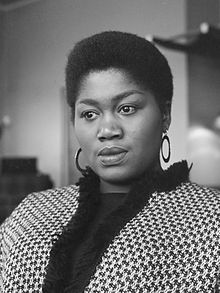 She was an influential figure to many of the key players of the folk-revival during the 50's and 60's, such as Bob Dylan, Joan Baez, Janis Joplin, and Mavis Staples. Odetta was also a well-known actress during the height of her career.
On September 29, 1999, President Bill Clinton presented Odetta with the National Endowment for the Arts' National Medal of Arts. In 2004, she was honored at the Kennedy Center with the "Visionary Award" along with a tribute performance by Tracy Chapman. In 2005, the Library of Congress honored her with its "Living Legend Award." Odetta died December 2, 2008, at the age of 77.
source:
http://www.colorlines.com/articles/odetta-voice-civil-rights-movement-1930-2008
http://www.workers.org/2008/us/odetta_1218/