The Sioux City Ghosts were an all-black fast-pitch softball team. The team started in Sioux City and began touring the United States, Canada, and Mexico during the 1930s, and played until 1956. The players were noted for their pranks on the softball field. They were often compared to the famous Harlem Globetrotters. The team were a very important part of African-American history during the Great Depression of the 1930s. The group first started off as a boy's club in the West 7th Street neighborhood. The neighborhood was home to mostly black families and black business owners. This boys club started with about forty members in 1925 who began playing ball on the Hopkins School playground.  Soon after forming, they became Sioux City's Junior League Champions.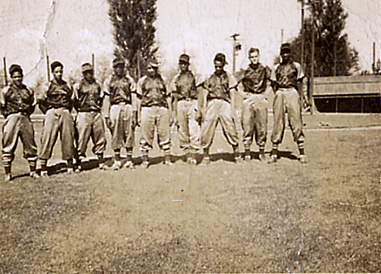 The boys became well-known in Sioux City, and later received sponsorship from Jack Page. They wore uniform shirts with the team name: Jack-The Cleaners, but in the beginning had no uniform pants. Instead, they wore whatever they owned, from jeans to bib overalls. With the sponsorship of Jack's, the softball team began playing in the tri-state area, but mostly in Iowa. As they toured, the nation was falling deeper into the Great Depression. Baseball and softball was a way to help people forget about their troubles and the economy.
The team concentrated on performing comedy routines and pranks for their games. A favorite routine was shadow ball and in-field. They would do a "now you see it, now you don't" routine, and the fans loved it. The players also improvised some actions like running from second base to first base: the Ghosts called that stealing first. Sometimes they pitched melons instead of softballs and rode bicycles in the outfield. Although, they focused on these stunts their game performance did not suffer. They played many games and still won over 2,000 games. The team once challenged the Globetrotters softball team but the game was never played. Life was not always perfect or the Ghosts. Many of the better players tried to move into the professional leagues, but couldn't because they were black. The team also had to break up at the beginning of the Second World War when many of the players entered the armed forces. The team is said to have put Sioux City on the map.
source: