Sonny Liston was the heavyweight boxing champion from 1962 to 1964. He rose from poverty in the rural south to become one of the most dominant and feared professional fighters of the 20th century.
Liston was born in St. Francis County, Arkansas, to Tobe Liston and Helen Baskin around the year 1932. Very little is known about his birth and his childhood. Liston's parents, who were labored as tenant farmers, put all their children to work harvesting cotton. He never received any formal education and later claimed that his father was a brutal man who punished with a whip.
He worked the fields until he was 14, after which he moved with his mother to St. Louis, Missouri. As he was quite large for his age, at more than six feet tall and two hundred pounds, he had no trouble finding work as a manual laborer.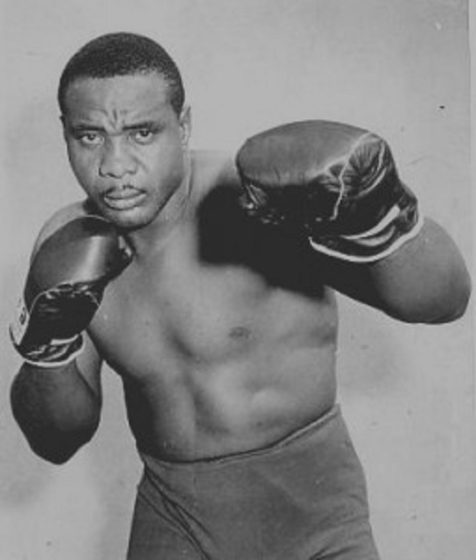 Constant poverty, low wages, and peer pressure to use his strength for intimidation and mugging soon lured Liston toward a consistent pattern of crime. After consistently falling under suspicion for theft and robbery, he finally was caught, tried, and sentenced to five years imprisonment at the Missouri State Penitentiary in 1950.
In prison, Liston began to express an interest in religion. He took the counsel of the Catholic chaplain who, in turn, had noticed Liston's tendency to fight with other prisoners. The chaplain was determined to focus Liston's strength and temper his ferocity with discipline in the boxing ring.
Liston soon became the foremost boxer at the penitentiary. Sensing his potential as a prizefighter, a newspaper publisher and a Catholic priest —- both associated with St. Louis mobster, John Vitale —- arranged for Liston's early parole in 1952. He was hired by Vitale to work as a union-buster while he trained to enter the world of professional boxing.
Learning the ropes from a sparring partner of famed boxer Joe Louis, Liston quickly gained skill and speed in the ring. A left-handed fighter with enormous fists, his punching power was intimidating, and he quickly worked his way through the amateur ranks. A notable victory came toward the end of 1952, when he easily defeated Ed Sanders, the reigning Olympic heavyweight champion. Liston turned professional the following year, and began to compile a record comprised almost wholly of victories, most often by knockout.
Liston was known to street fight and continued to have occasional trouble with the police. Furthermore, he never broke his close ties to the mobsters who had helped to arrange his release from prison and manage his career.
In 1962, the reigning heavyweight champion, Floyd Patterson, agreed to fight Liston. The two fighters had extremely different personalities, and the media played up the bout as a battle between good and evil. Whereas Liston was quick-tempered and had a criminal record, Patterson was quiet spoken and courteous; he was considered by many to be an ideal Black sports figure to capture the public eye.
Nevertheless, Liston was the superior boxer. He defeated Patterson with a first-round knockout and claimed the title. Patterson challenged Liston to a rematch in July of 1963, but the result was the same. Liston died on December 30, 1970
sources:
http://www.biography.com/people/sonny-liston-9383451
http://blackhistorynow.com/sonny-liston/