On January 22, 1976, cattle ranch worker Gordon Howell was shot to death in a one-room grocery store. The store was just six miles east of Dawson, a rural town in southwest Georgia. It was believed through testimony, that Howell was shot by a group of young African-American men who arrived at the store that evening, all of whom donned ski masks behind a beer cooler before pulling out a weapon. The store owner Denton identified Roosevelt Watson, who was 19 at the time, as the gunman.
Police arrested Watson's brother, Henderson Jackson, 21; brothers Johnny B. Jackson, 17, and James Jackson, 16; and J.D. Davenport, 18, who was related to Watson. Before the boys became known as "The Dawson Five," they were five poor, young, black men from rural Terrell County later to be charged with robbery and first-degree murder. In a preliminary hearing, the prosecution claimed the boys had confessed to the accusations, and they would be seeking the death penalty.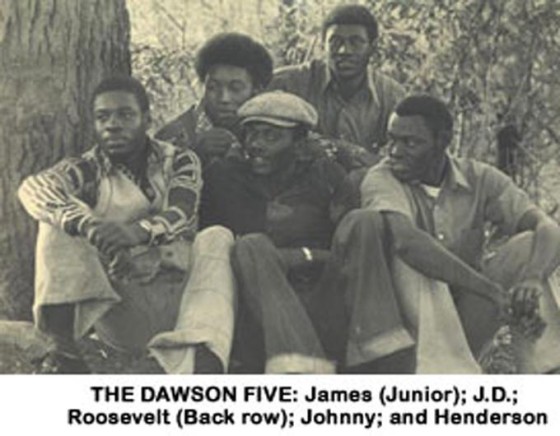 The men were represented by Millard Farmer of the Team Defense Project Inc. in Atlanta, Georgia. Farmer contended that police coerced the defendants' alleged confessions by threatening to shoot, electrocute, and castrate the young men. However, the prosecution's case didn't hold up.
In August 1977, a former police captain testified that he was present when a fellow officer jammed his gun into the forehead of one of the defendants, cocked it, and ordered the young man to confess. By the last week in August 1977, the Dawson Five story had spread across the nation; "A case of murder; a charge of forced confessions" read one headline from the New York Times.
On December 17, 1977, the district attorney dropped the murder and robbery charges, saying that without the confessions, there was not much of a case. By that time, two of the defendants had spent one year in jail, and the other three had been incarcerated for almost two years.
source:
http://beck.library.emory.edu/southernchanges/article.php?id=sc02-7_005
http://www.goextranet.net/Seminars/California/Dawson%20Five.htm